---
Storm of the Century: How Weather Can Wreck Infrastructure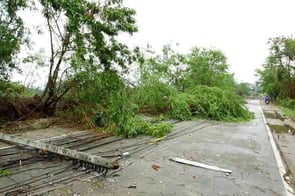 Bad weather happens. From the occasional light rain to seemingly increasing instances of extreme weather, tornadoes, hurricanes, ice storms, wind, hail and lightning all can wreak havoc on utility poles, lines and equipment.
Utility companies frequently experience significant damage and loss of service due to extreme weather systems. High winds during hurricanes can demolish trees and send airborne debris flying, bringing down utility poles and snapping power lines.
High waves crashing into coastlines can submerge critical equipment. Tornadoes can easily tear through power lines and transformers, even pulling poles out of the ground. Snow and ice can accumulate on power lines, adding hundreds of pounds of extra weight and ultimately downing lines.
The thing is, most utility poles and wires are simply not built to withstand the power of such severe weather systems, and moving wires underground can be costly and even impossible in some cases. Restoration in the aftermath of damaging weather can also be a big hit to a company's budget, as well as being time-consuming. The reality: the only real defense is offense. Prevention, including ensuring asset maintenance is up to date, maintaining good communication with attachers and other providers in your area to secure help when needed, and having excellent infrastructure asset management processes in place can help soften the blow. It simply takes time, planning and diligence.
So, when does weather strike in a damaging way? Dozens of times per year. These are our top least-favorite instances of the past decade and some. Read them as cautionary tales.
Hurricane Katrina: August 31, 2005

If you want to call anything the storm of the century, Hurricane Katrina would have to be in the running. Beginning on the final day of August, 2005, a massive hurricane caused widespread power outages throughout the southern U.S., including Mississippi, Alabama, Florida, Kentucky, Tennessee and, of course, Louisiana, where population displacement and devastating flooding still affect the area today. In terms of service interruption, exact totals are difficult to pin down, especially in Louisiana parishes, where occupants were evacuated and conditions made neighborhoods uninhabitable. However, a good estimate is that 2.6 million people were left without power across the affected areas.
The "Hanukkah Eve" Windstorm: December 14, 2006
The National Weather Service may have held a contest to name this particular storm, but there were no winners in the Pacific Northwest on December 14 and 15 of 2006 when hurricane-force winds and heavy rainfall slammed into Oregon, Idaho, Washington state and parts of British Columbia, Canada. The storm caused hundreds of millions of dollars in damage and left over 1.8 million residences and businesses without power for more than a week in some cases.
Nor'easter of the Decade: February 5-6 and 9-10, 2010
A pair of blizzards blighted the Northeastern U.S. in early February 2010, the first on the 5th and 6th and the second just a few days later on the 9th and 10th. Hardest hit was the Baltimore-Washington corridor, with more than 200,000 people impacted at the height of outages and about two-thirds of those without power for periods lasting from half a day to several days. Other urban areas like Pittsburgh, PA were also hit hard.
Deadly Tornadoes: April 2011
On April 27 the "2011 Super Outbreak," one of America's largest, costliest, and deadliest tornado outbreaks knocked out power to the majority of northern Alabama and Mississippi, leaving devastation and destruction that stretched across five states, into Georgia, Tennessee, Arkansas and Virginia. A record two hundred and eighteen tornadoes touched down on one day during this super-storm. More than 300 power transmission towers, 120 feet to 150 feet tall, were destroyed in the storms, some "twisted like bow ties" according to the National Weather Service. It was weeks before power was restored to all users.
Superstorm Hurricane Sandy: October 29, 2012
Power was lost in more than 8 million households and businesses across 18 states during this gigantic storm, and for some, not restored for weeks. Public Service Electric and Gas Company (PSE&G) reported damage to 2,427 utility poles, 1,022 transformers and 320 miles of conductor. Sandy should serve as a warning to all utility companies to update their data and record systems: The recovery process was reportedly made more difficult, specifically on Long Island, where the Long Island Power Authority was "hindered by an antiquated record system." Additionally, workers were using "paper maps and documents to locate damage," making restoration of service slow and cumbersome.
Are your field assets ready for this year's weather, extreme or otherwise?