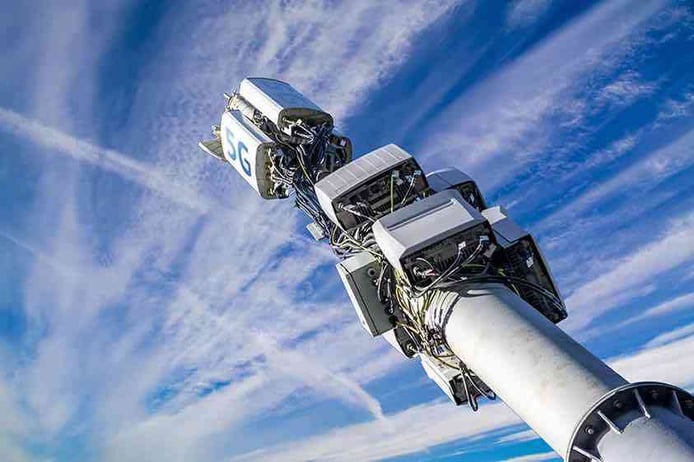 The 5G rollout has begun in cities across the U.S., and applications for small cell attachments to utility and streetlight poles are mushrooming. The buildout of 5G infrastructure is expected to continue for much of the decade.
FCC members and other federal officials have stressed the importance of the United States being the worldwide leader in 5G, as it has been in past generations of wireless broadband.
5G promises much faster speeds for internet service and video uploads. It is also important to expanding the Internet of Things (IoT), which will enable interconnection and automation throughout society, including home systems, health devices, autonomous vehicles, and public functions such as traffic, energy, and public safety. The FCC has said rapid small cell deployment is essential for 5G to deliver on its promise.
Much progress has been made in the past year, but significant challenges remain for U.S. telecoms that could affect the speed of the 5G rollout. Major issues that could hinder the process include a shortage of workers, spectrum availability, continued resistance to small cell deployment, and high costs. Developments have taken place on the first three issues since the year began, and all those issues ultimately influence costs.

Workforce Challenges
The FCC's Brendan Carr, designated by FCC Chairman Ajit Pai as the commission's point man on wireless broadband buildout, has been sounding the alarm on worker shortages for much of the past year. Even in the early stages of deployment, an insufficient workforce has prevented 5G small cell deployment from moving at optimal speed, Carr told the Senate Commerce Committee in January, as reported by Multichannel News.
The nation has about 27,000 skilled tower workers, Carr told Politico recently. He said an additional 20,000 are needed to complete the 5G rollout on an acceptable schedule. Thousands of workers also will be needed for other deployment-related work such as installing additional fiber to meet backhaul demands.
The shortage will become critical in the next few years if adequate steps are not taken to bring more workers into the field, Carr and other officials say.
Despite the pay for such work—as high as $70k a year without a four-year degree, according to Carr's testimony—several obstacles make it hard to find enough workers, as reported by SHRM and Field Service Digital:
Overall low unemployment
Potential workers' aversion to heights
Lack of community college training programs
Lack of public awareness about job opportunities
The level of skills required
*Tower work is not a straight blue-collar job, Field Service Digital points out. It requires significant computation and analysis ability along with the ability to perform construction 200 feet up or higher.
While some of these obstacles, such as fear of heights, will remain, others—lack of training programs and lack of awareness—can be addressed. Some community colleges have added 12-week programs for tower climbers and telecom technicians. Creating a strong system of training programs at community colleges across the country will require collaboration among the FCC, various governments, education officials, and employers.
Harold Feld, the SVP of Public Knowledge who testified in the same Senate hearing as Carr, said it's important that the new jobs are structured to provide continuing long-term employment after the 5G deployment ebbs in a few years, Multichannel News reported.

The Need for Spectrum
5G works best within a certain frequency range known as the C-band. Large telecoms, as well as many smaller companies, are hoping to get in on the 5G revolution. Spectrum availability within the ideal frequency range is a valuable commodity for these companies.
The FCC is trying to address potential spectrum shortages for 5G, as reported by CNET. In early February, the agency announced a deal to pay satellite companies billions of dollars to change frequencies and free up C-band spectrum. The newly available frequencies are expected to be auctioned in December.

Resistance Continues
Two monumental FCC orders in 2018 addressing One Touch Make Ready (OTMR) for joint use and the municipal small cell approval process have sped small cell deployment already, according to Brendan Carr. He pointed to a 70% increase in internet speeds over the past two years as evidence, according to Multichannel News.
One Touch Make Ready allows companies attaching small cell equipment to utility poles to remove and reattach other companies' equipment as needed. Previously new attachers had to wait for other companies to move their own equipment, which can take weeks, months or longer.
The commission's "Third Report and Order" on small cell deployment set shot clocks that limit the time a municipality can take to rule on a small cell application. It also establishes what the FCC considers maximum reasonable fees a city can charge the attaching companies per small cell.
While some cities and utilities have embraced small cell as an additional revenue source and as necessary to bring 5G to their communities, others continue to resist the new rules. Oral arguments in separate lawsuits against the two FCC orders began in the U.S. Court of Appeals in the Ninth Circuit Feb. 10. Bloomberg Law outlined some of the opposing arguments in advance.

Sticker Shock
The sheer cost of the 5G rollout is staggering—hundreds of billions of dollars, according to Forbes. Cost is an issue in the speed of deployment, even for large telecoms, many of which carry a large amount of debt. Several uncertainties remain that could affect costs in the years ahead:
If community colleges are slow to establish adequate training programs for tower workers and telecom technicians, companies may have to create more in-house training, which would be a significant expense.
If lawsuits against the 2018 FCC orders succeed, costs of small cell applications and approvals likely will rise in many places.
It remains to be seen how high the prices for prime spectrum will go in the next auction.
An additional factor is the U.S. position that using components from the huge Chinese company Huawei for 5G could compromise security for the U.S. and its citizens, as reported by The Verge last year. Security is vitally important, but it comes with a price tag because lower labor costs make Huawei components cheaper.


Meeting the Challenges
Getting reliable 5G service into the hands of American consumers as quickly, safely, and efficiently as possible is a huge undertaking for telecoms as well as their partners in the joint use community. With so many players and hundreds of thousands of small cell installations involved, anything that helps manage, organize, and streamline the process is of great value.
Alden One®, the nationally recognized software platform for joint use management, will help any company taking part in this process stay on track through each step required. Alden One® simplifies communication and coordination among telecoms, asset owners, contractors, and others involved in deploying infrastructure for this exciting new technology. Working together, we can build a nationwide network for which we all can be proud.
Learn how Alden One® reduces the stress and confusion of small cell deployment. Click here to contact a product specialist.