---
The FCC Small Cell Order: Everything You Need to Know (Part 2)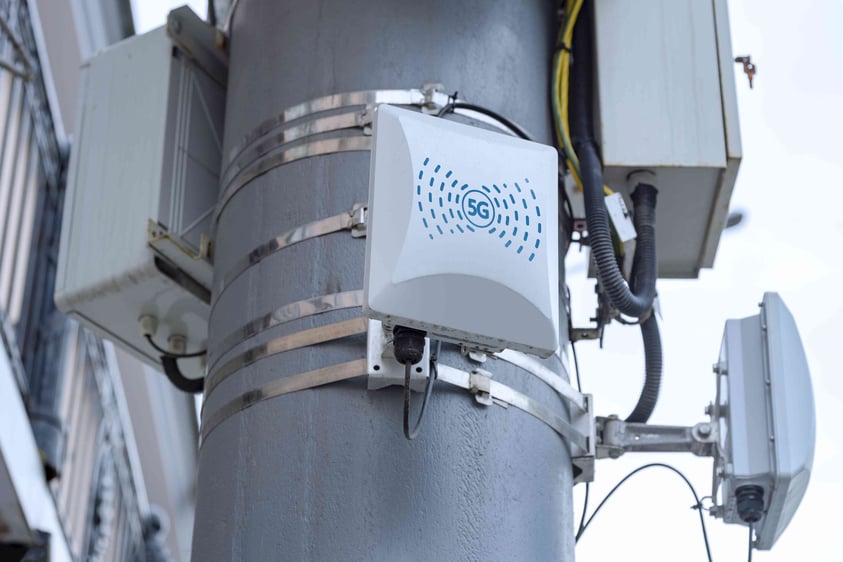 The September 2018 Third Report and Order was designed to speed up deployment of small cell wireless infrastructure across the nation, and the FCC delivered their list of regulations.
Many governments and joint use parties are preparing for the rollout of 5G wireless broadband. While 5G is just beginning, it is expected to accelerate rapidly. This new generation of wireless service promises faster network speeds, while allowing for a vast expansion of the Internet of Things (IoT).
The existing network of cell towers cannot meet the demands of 5G. An effective rollout depends on the placement of hundreds of thousands of small cell attachments, each smaller than the size of a backpack, to provide a greater density of wireless coverage.
Many companies and cities have worked hard to accommodate the overwhelmingly high volume of small cell nodes, and have already faced several challenges. Deployment of small cell infrastructure has lagged due to excessive fees, legal restrictions, and long waiting periods for the approval of attachment applications.
The FCC Report and Order addresses each of these three issues with specific requirements that municipalities and other parties must meet in their interactions with wireless providers.

Fees: What is "Reasonable?'
The per-unit fees, that once seemed reasonable when companies were erecting 200-foot cell towers, would halt small cell deployment, as many more small units are required.
Excessive fees burn through infrastructure improvement budgets, slowing down deployment in "must-serve" large cities and preventing or delaying deployment in smaller cities and rural areas, the FCC reasoned.
The Third Report and Order on small cell attachments sets the following rules for fees:
Fees must reasonably represent actual costs. For example, government organizations must know how much it actually costs to place small cell equipment on public property, like streetlights or utility poles or on assets in the public right of way (ROW). These fees should not be market-based, and governments should not try to use them to generate revenue.


Costs must be reasonable. Excessive charges by third-parties should not be passed on to wireless companies.


These rules apply to any fee a government charges: application review, construction permitting, right-of-way (ROW) access, zoning variances, electrical permits, and more.


Fees must not discriminate among service providers and must not favor previously existing providers.
Finally, the order establishes what it considers acceptable fee levels: one-time fees of $500 for up to five small wireless facilities (SWFs) mounted on existing poles or structures, and $100 for each additional SWF; a one-time fee of $1,000 for a new small pole or structure; and recurring annual fees of $270 per SWF. Fees exceeding these amounts should be rare, the FCC says.

Protection & Preservation: Striking a Balance
Local restrictions designed to preserve community standards continue to be among the most popular disputed conversations around small cell deployment. To better serve their communities, city and county leaders desire to keep the public right of way uncluttered.
In crafting the national Report and Order, the FCC attempted to strike a balance between removing obstacles to small cell installation and respecting a community's right to set their own standards for safety and aesthetics.
Local governments must protect public safety and welfare, such as prohibiting hazardous installations and designating aesthetic restrictions on style, placement, and spacing of small cell equipment.

Setting Shot Clocks
The FCC asserts that small cell applications should move through the approval process faster than the time allowed for large cell tower approvals. The FCC order sets "shot clocks" for governments to meet when small cell applications are received.
Consider these timelines:
A city or county has 60 days to rule on an application for small cell attachments to existing structures, and 90 days to rule on applications for new small cell structures.


The clock starts as soon as the application is submitted. Applicants should receive notice within 10 days that their application is incomplete. At that point, the clock would reset after a revised application is submitted. Timelines can be paused if the government determines within 10 days that the revised application is still insufficient.


If the government does not complete the review within the time specified, it should expect to issue a permit immediately. If it fails to do so, the company may seek a court order granting the permit.


A Challenge or Opportunity?
The FCC's big-picture goal is to provide a nationwide 5G wireless network that reaches all Americans, and to pursue American leadership in the worldwide race to deploy 5G technology. With multiple providers and hundreds of thousands of installations, this new chapter of technological progression will be challenging for all involved. However, this presents every provider a great opportunity to influence the process.
Streamlining the process is crucial to keeping joint use stakeholders on the same page. The industry platform for joint use management, Alden One®, was designed to automate high-volume attachment deployments like small cell. Click the link below to speak with one of our industry experts.
Stay tuned for the next blog in our small cell series, where we will continue to dive into the specific requirements of the small cell Report and Order.