---
Why Use Third-Party Administration? Reason 1: Backlogs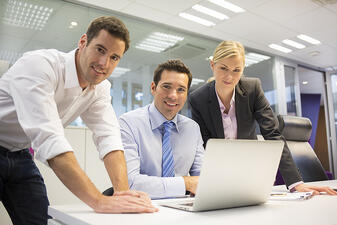 At Alden, we are declaring November "Forget doing it yourself and get help!" month with a series of blogs dedicated to why using third-party administration (TPA) to solve some of your joint use issues might be a good idea.

What is third-party administration? Great question. TPA is a service that allows you to bring in expert joint use resources whenever you need additional help on a short-term project or on a permanent basis, based on your specific business needs.
Here is a great example: you may need to clear a pole transfer backlog or detach notice backlog while simultaneously maintaining day-to-day operations. A small project may require TPA services for 3-6 months to finish the job. Or, you may find that joint use work at your company does not require another full-time role, but that you want to call on TPA services whenever there is a peak in work to get over the hurdle. The best part about TPA services is they are tailored to your project requirements and business goals.
As you may well know, joint use administration is a complicated, sometimes confusing and time-consuming endeavor. One reason: backlogs. Multiple types of backlogs can pile up when staff either has no time to perform the current workload, or there is no role dedicated to joint use. The bigger issue however, is that backlogs can lead to a number of violations whether you are a pole owner or attacher. Supplementing your current staff with TPA clears backlogs fast, ensuring timelines are met and your rules are enforced.
For Pole Owners
For example, pole transfer backlogs create double pole (double wood) issues, which can lead to fines and penalties, unsightly neighborhoods and even hazardous conditions. Permitting backlogs can lead to numerous issues, one important one would be having unpermitted attachers put equipment up on your poles or in your conduit vaults, circumventing your process.
For Pole Attachers
Again, backlogs can be costly in fines and penalties. For example, you may be in violation for not removing equipment in a timely manner as outlined by a contract. TPA ensures work is completely quickly.
As an attacher, you simply may not have the on-site resources to manage current violations. TPA can provide transfer notifications from pole owners, will verify any NESC violations such as clearance and address them for you. If facilities were not transferred as regulated by your contract timeframes, you may also end up owning a bad pole by assuming ownership as stipulated in the contract agreement. You may also be responsible for the cost of pole removal, as well as any new rental fees for the new pole. Because you now own a "bad" pole, public and worker safely liability is also increased. Attaching companies can benefit in many ways by utilizing TPA.
What Can You Do?
Hire a joint use expert to help out —like Alden Systems. We manage joint use issues on a short-term project basis, or can act as an extension of your current joint use department in whatever capacity and for however long is needed. Experts bring to the table not only years of service to the your industry, but a full complement of joint use software and platform solutions, all designed to make life—and joint use—easier for everyone involved.
Is this your moment to decide you could use a partner in joint use administration? Think TPA. It may just be the solution for you. (Proceed to reason 2)