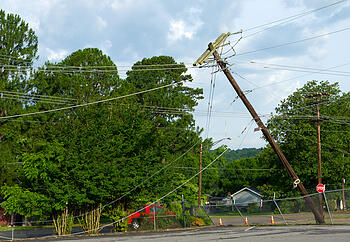 Imagine you are driving down the road in your car when all of a sudden, without warning, a utility pole snaps and comes crashing down in front of you on the windshield of your car, mere inches from your seat. This is exactly what happened to a woman named Bridget Butler on December 11, 2013 while she was driving down a residential block in Houston, Texas. Thankfully the pole missed the driver (though narrowly), and thankfully a neighbor who heard the crash came out of her home and advised Butler to stay in her car and wait for help, "fearing the live wire would electrocute her if she walked away from the SUV." Utility crews arrived on the scene and helped Butler exit the vehicle after cutting the power (resulting in power loss for half a dozen homes). Butler was very lucky to escape with merely a few cuts to her hand.


Accidents involving utility poles, like the one detailed above, happen all the time, and they often bring liability into question. Even accidents in which a driver crashes into a utility pole can end up showing accountability lies with the pole owner. Most states, for example, require utility companies to conduct site studies of where they plan to construct a pole and to submit plans to the city, who in turn must ensure that the pole is not placed in a dangerous spot (like a location with several prior accidents). It may seem that the driver is fully responsible, but if this process is not completed correctly, the pole owner can prove to be ultimately liable for a crash involving the dangerously placed pole.
Looking back at Ms. Butler's accident, KTRK-TV, the local ABC news television station in Houston, reported that neighbors told them they had complained to CenterPoint Energy, the company owning the pole, to say that particular pole appeared to be leaning. In this case, these complaints could easily have been recorded in the utility pole owner's database, and followed by an inspection of the pole performed to analyze the condition of the pole. If inspection had been conducted in response to the complaints and found that there was not a problem with the pole, and furthermore had all of that information documented and easily accessible, they might not be considered liable.
After all, there are many factors that can cause a utility pole to snap: natural rot and decay over time, damage due to extreme weather, weakening by termites, overloading, illegal attachments, etc. This is why utility poles should be inspected periodically and the findings from each inspection should be recorded and reviewed. If they are, then accidents occurring due to poles falling are sometimes considered "acts of God." It has been compared to a situation in which your car was picked up by a tornado and thrown 1/2 mile away into someone's house. In this case, you would also not be responsible for the damage to the house. The key for the utility pole owner is to be able to prove that they were not negligent.
The electric company involved in Ms. Butler's situation is said to be investigating the incident, and working to determine what caused the pole to fall — and, I would imagine, looking at their records to see if the neighbors' complaints were properly recorded and an inspection properly conducted.