---
The Rise of Distributed Antenna Systems: The Impact on Joint Use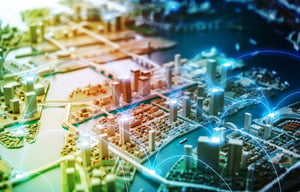 Distributed antenna systems (DAS) were the original small cells. First used more than 30 years ago, DAS began as a solution to provide wireless coverage in areas where there was none.

Today's DAS networks help fill in holes where wireless coverage is weak and boost the capacity of traditional networks in high-traffic areas.
Ideal settings for DAS include:
Large indoor areas such as high-rise office buildings or airports

Contiguous outdoor areas such as stadiums or open courtyards

A combination of indoor and outdoor environments, like a college campus
Instead of building a new tower, operators install a network of connected DAS nodes that are linked, often by fiber, to a central communications hub. These low-powered antennas are the size of a fire alarm or smoke detector and cover a short range of less than a half-mile.


DAS & Joint Use
DAS are typically installed on existing infrastructure such as utility poles, streetlights, and buildings. Of these options, utility poles are at the top of the list, as they are widely installed (for fast deployment), readily available (where space remains), and highly stable. DAS can be installed alongside other attachments and power, reducing the need for additional supporting attachments and minimizing the physical and visual impact.
One of the most significant concerns with relying on utility poles for DAS installations is the increasing crowding on poles and the lack of available space as this and other technologies – like the newer small cell attachments – continue to grow in response to increased wireless demands.


The Difference Between DAS & Small Cell
While DAS has been in use for decades, small cells are a much more recent technology. While both systems are similar regarding power output, coverage areas and size, there are substantial differences between the two.
DAS are carrier-neutral, meaning multiple carriers can use a single node, and nodes can handle many frequencies (including 2G, 3G and 4G commercial frequencies, public safety, UHF and VHF bands). They were designed to scale to meet the needs of a growing network and aren't ideal for low-density applications.
Small cells are primarily single-carrier and single-frequency technologies, although this is changing with ongoing advancements. They are designed to deliver coverage and capacity over a relatively small area (like a Wi-Fi access point) and are better suited for a single carrier.
While the best technology choice will vary from one situation to the next, the best solution may be a combination of DAS and small cells.


What is the future of DAS?
According to Transparency Market Research, the global DAS market is projected to grow at a compound annual growth rate of about 11 percent through 2027, reaching a market value of $20.4 billion. This growth is the result of increasing mobile data traffic coupled with growing need for ongoing connectivity, as well as increasing use of DAS for public safety purposes.
The volume of attachments on our infrastructure is rapidly increasing. Are you poised to manage the influx of requests? Alden One is the joint use platform to ensure your company is ready. With a centralized, automated, web-based software platform, joint use professionals can better communicate through this time of transition. And with the rise of remote work, utilizing features like project dashboards offer a clear management overview for team members no matter where they may be located.
Download our guide today to learn how to meet the challenges associated with small cell technology. For questions about our products or services, book a meeting here.
Editor's Note: This post was originally published in April 2018 and has been updated for accuracy.