---
B is for Behold: Getting a Closer Look During Utility Pole Inspection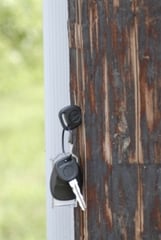 From first sight to final inspection, utility pole inspections are a vital part of successful field asset management. So what really happens during inspection? Today, we take a look at the second step: Behold Up Close.
Now that we are a couple of steps into the process, it is worth noting the entire inspection process is less costly to your company if the work is done right the first time, using a 1-site, 1-visit methodology.
Who completes these tasks? In some instances, an internal team in charge of field maintenance may do checks of assets in the field. Some companies perform both maintenance and inspections—but few who name this work as an internal specialty. Our best advice...Find a partner that focuses on infrastructure asset management. A partner that specializes in field inventory and inspection and who understands how to integrate the captured information generated from detailed field work into software turns asset data into useful insights that drive action.
Approach is Everything

After the initial "A is for Audit" long-view survey, a technician will approach the pole. Along the way, he or she will look for a variety of things, including:
Pole lean: is the pole out of vertical alignment? This could be indication of a structural issue.

Additional damage to upper or lower portions of the pole not easily seen from afar.

NESC or state-specific violations such as mid-span vertical clearance, horizontal clearance and pole working space.

Over-lash issues: With pole space at a premium, companies are continually looking for creative ways to attach services lines. Over-lashing can be effective, but not when one company has decided to over-lash to a second company, for example.
It is Wild out There

Call it the best thing about initial approach or the worst part of utility pole inspection in the field, no technician is without stories of the weird, wild things seen around and on the way to poles. One technician says in six years he feels he still hasn't seen it all, counting "rodents living in the truss" and "bees, hornets, wicked spiders and flocks of box elder bugs," among the nature he has encountered. "A squirrel once threw an acorn at me from atop a telephone wire," he adds. Ouch.
One tech "came across a pole that some animal had used as a head rub so often it had scoured out a ravine in the pole." Other technicians report that things also fall from poles quite often, including clamps and even fuses. The journey to the pole can be treacherous as well, forcing inspectors to avoid angry moose, rattlesnakes, javelina, and "so, so many dogs," as well as traverse ravines, thorns, hidden ditches and quick-mud. "It's never a dull day," one mused. We would have to agree.
What's Next?

C for Capture great data. After observing and recording potential issues up close, technicians then begin data capture, collecting a variety of important information about a pole, including documentation of any instance of NESC or state-specific violations. Our next article will cover this vital letter in the utility pole inspection alphabet.