---
Alden One: Joint Use Asset Management Drives Clarity & Collaboration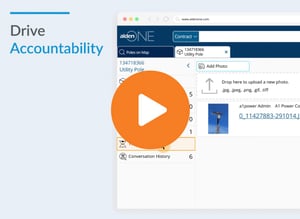 Managing utility infrastructure assets comes with inherent challenges. Often, utility networks consist of multiple smaller networks built at different points in time, likely supporting different technologies and leveraging various legacy equipment. Responsibility for maintenance and new buildouts may fall to different entities. On top of that, utilities are — by nature — geographically distributed, sometimes over vast distances.
And that's before taking into consideration external drivers, such as FCC, NESC, and state regulations, government-mandated requirements for rural buildouts, cost/resource constraints, and competing priorities. For some, safety has to be the main priority, while other providers may prioritize speed of deployment. With massive growth in the volume of attachment requests driven by the rollout of 5G, RDOF, BEAD funding and other factors, having the necessary tools in place is more important than ever.
Advances in data collection, remote monitoring, and similar technologies give providers an unprecedented ability to monitor performance, manage projects, and track assets in real time. However, the deluge of data risks is inundating utilities with information overload. This scenario can be just as difficult as a lack of data.
Alden One helps solve these issues while driving efficiency through automated, repeatable processes. Alden One is a centralized SaaS platform that offers the utility industry a singular place to manage their own workflow processes and communicate with internal and external stakeholders to make more informed decisions.
Alden One is a web-based, cloud-hosted platform that supports all types of utility assets, including distribution poles, streetlights, cell towers, conduit, right of way, and more. Our holistic approach to overcoming informational sharing challenges among various key parties — whether they are utility asset owners, companies that attach to utility assets, engineering service firms, or other stakeholders — provides much-needed clarity for decision-makers.


Drive Clarity with a Map View of Joint Use Assets
Upload data from GIS or captured during field audits, and Alden One seamlessly imports and integrates that data into a centralized online platform. From there, Alden One Pro users can access a map view of assets and share those views with any partner they wish. It's easy to drill down into the details of utility poles, attachments, and other known asset attributes — right down to specifics such as pole identification numbers.

Ensure

Accountability for Actions
Alden One additionally serves as an all-in-one repository of contracts, billing information, documents, photos, and timelines, along with time-stamped records of all actions taken in the platform (and by whom.) This creates a reliable audit trail that will thrill your regulatory compliance team. Tracking project progress, including the ability to identify chokepoints, is as simple as viewing the appropriate dashboard.

Enhance Collaboration Between All Stakeholders
Structure owners, as well as anyone in the system, can safely and securely share data with partners so that everyone is on the same page. Role-based permissions give you full control over what information is shared — and with whom — with the option of having access expire when projects are complete.

Propel Action through "Conversations"
Alden One grants attaching companies access to the data they need to quickly view details such as height, class, material type, and physical location (latitude/longitude). That way, your partners (and you) have accurate and easily accessible information to facilitate and expedite work requests.
For example, system users can initiate an Alden One Conversation to facilitate a workflow process regarding a particular asset or assets, such as permit-to-attach requests or transfers. "Conversations" in Alden One serve as the mechanism for asset owners, attachers, service firms, and all relevant stakeholders to communicate within the platform.
Alden One provides a single source of truth so that all parties know what's happening, what needs to be done, and when. By tying assets to activities, a clear view of all the moving parts of any job comes into focus, providing you with the business intelligence you need to make better decisions.

Gain Clarity & Control with Alden One's Asset Management Software Platform
Alden One saves time via end-to-end streamlining and automating of your business processes, aligning stakeholders around key data and workflows, and offering clear communication among all stakeholders. To learn more about how Alden One's asset management solution will help your team, schedule a 1:1 meeting. We'd love to chat.