---
Big Data, Big Challenges: Overcoming the Problem of Disparate Utility Data Collection and Reporting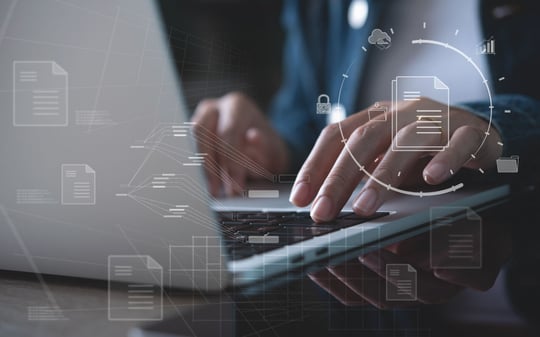 Two challenges are converging in the utility industry.
With the massive growth in the volume of attachment requests driven by 5G and government-funded broadband (especially rural broadband) initiatives, utilities are struggling to keep up with requests, stay compliant with regulators, and ensure their pole assets are maintained.
Meanwhile, all stakeholders — including attaching companies and service firms — must coordinate more often around and share attachment- and pole-related data. Tracking and communicating that data among multiple stakeholders is a significant challenge for companies that collect and report data in vastly different ways. It requires an asset management system and processes that can keep pace.
Technological Change Necessitates Process Change
Most utilities are starting to see attachment requests ramp up as 5G implementations and government-funded fiber rollouts gain steam (broadband equipment market expected to exceed $120B by 2027), and these trends are bringing other challenges.
Alden Systems' CEO John Sciarabba says agility is the most important quality for utility's success at this time, citing these reasons.
Tech advances change the way joint use agreements are managed, requiring greater collaboration between stakeholders.
New entrants into the field with smart grid technology have led to different types of agreements with brand new entities.
Extreme efficiency is needed to handle coordination for large-scale fiber rollouts and keep pace with the competition.
All these changes have one thing in common: the need for at-your-fingertips, real-time, accurate asset data.
Until recently, companies may have been able to "get by" with collecting and recording asset data with Excel spreadsheets, email, and repeated physical pole verification walkouts. But now, with the heavy volume of attachment requests, these antiquated systems increase safety and regulatory risks.
The Challenge: Data Accuracy
Utilities must keep attachment data up to date and share their crucial pole and attachment information with internal teams—best practice at any time, but mission critical as attachment requests pile up. However, the attachment and field survey data can be transmitted in various formats (CSV, Excel, FTP), which requires the utility to "cleanse" the data to be sure it's accurately integrated into the utility's legacy systems without losing the data integrity.
With these companies all working independently and sharing data in different formats, delays, inaccuracies, and disputes over which attachments are actually on the poles, are bound to happen.
Poles that are documented as compliant in the utility's database may not be once an attacher installs equipment. Even when attachment data is communicated in a timely manner, disparate data collection processes require data cleansing that can create information delays.
The Challenge: Disparate Data Collection and Reporting
In a climate where extreme efficiency is required, even incremental changes can have unintended downstream consequences. If a utility requests that attachers use their preferred data collection tool or reporting process to streamline data sharing, they may inadvertently create problems. Attachers then must adjust their SOPs, which can create delays or even inaccuracies while employees learn a new system.
But the goal is to increase, not limit, production. Changing stakeholders' operating procedures can cause production backlogs and delays.
How companies collect the data also matters.
Different stakeholders may collect data on an iOS device, an Android phone, a camera, or a standalone GPS unit. Other companies use applications like Alden's Task Agent that use pre-loaded interactive maps to direct techs to precise locations, with the ability to quickly capture attributes such as pole class/height, midspan height, attachment ownership, attachment heights, and more.
The collection method influences the output and, therefore, the DNA of reports.
The bottom line: Every entity involved in the joint use process is incentivized to move faster and do more. Without an industry standard for receiving and processing data, gaps in information can negatively affect QA. This is true whether you're a utility, attacher, or service firm.
The Alden One Solution
The Alden One platform is flexible enough to work with various asset data collection devices and formats while also creating workflow standards that help companies to optimize processes. The Alden One Conversation feature ensures that all relevant information about the status of any job is readily available at a glance — including notes, documents, photos, status, and complete historical records of all asset data.
With work captured in a single operating system, utility stakeholders who manage joint use assets can reduce or eliminate friction from data variances—and, importantly, normalize the process of information sharing even if asset data is collected or reported in different ways.
Jacob Harrison, Chief Revenue Officer at Alden Systems, puts it this way: "We create efficiencies. It all comes back down to the data. We really work on how we ingest data, how we process data, and allow people to upload it directly to the system. Big data is going to cause big problems. By normalizing how we do the work, we can move forward faster together."
With Alden One, joint use stakeholders can unite around a single source of truth and utilize business automation to create clarity and control. Discover Alden One.