---
Alden appoints Zach Hester Director of Customer Success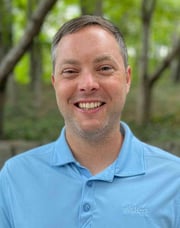 Alden Systems is excited to announce Zach Hester as our new Director of Customer Success! We sat down for a Q&A regarding this role and what this change means for the company and our customers.
What inspired you to pursue this position?
Alden was facing the challenge of improving the method and efficiency of implementing customer projects. I wanted to own the challenge, positively affect the delivery to the customer, and work to improve the customer experience with Alden.
What skills and experiences do you bring to this position?
In my 10 years at Alden, I have served in multiple roles including Special Projects, Product Specialist, Project Manager and Sales Engineering Manager. Serving in different segments of the company has given me insight into the different perspectives of what we do, and the challenges our customers face.
I believe that having the experience and ability to view our product and delivery through different lenses will allow us to implement changes that improve the way we operate, benefitting the customer throughout the lifecycle of their relationship with us.
How will this new role allow you to contribute to Alden's growth and success?
There is a direct correlation between the Customer Success role, and our ability to move Alden forward. If we can get our customers successfully implemented more efficiently, Alden will see the growth and success that we've been working to achieve.
What challenges do you anticipate in your new role, and how do you plan to address them?
The challenge we have right now is that the market is ready to move quickly. Our current and prospective customers are eager to complete implementation, and either start their engagements or enhance their existing Alden One use. The opportunity here is to continue to serve each client well, improve our methodology for helping our customers, and continue to refine how we get work done.
What message do you have for your colleagues, clients, and customers regarding your new role?
Challenges and opportunities await all of us in this industry. Let's continue to work towards successful partnerships together as we all strive to serve our clients and communities.
To learn more about Alden One, click here to book a meeting.