---
Using a Joint Use Platform (Part 4): A Look at Data and Reporting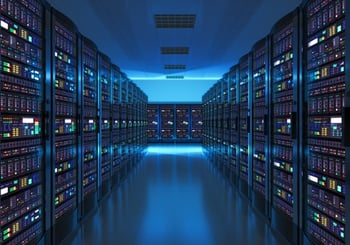 Search tools deliver faster, more accessible results than traditional reports.
Data is a hot topic today. How do you collect it? Store it? And make use of it all? Believe it or not, more data was created in the last two years than in the previous 5,000 years, yet less than 0.5 percent of that data is being analyzed for operational decision-making.
How can asset owners – who already struggle for the resources and time to manage existing assets – efficiently make use of data while setting their business up for smart data management in the future? It's time to consider a centralized platform.
Asset owners collect and review data to understand where their assets, such as utility poles, are located, and who is attached to them. Creating spreadsheets and reports can take considerable time depending on how many disparate systems one must access to pull and compile data from multiple sources.
When using a shared, centralized platform, a simple search can populate a chart within seconds to make current data accessible and available in an effective format.


Making Data Available: How to Enter Data into a Joint Use Platform
A centralized platform accepts data from a multitude of enterprise systems in non-standardized formats via simple bulk-load file transfer or interchange (i.e. CSV file). Once the data is in the system, it can be accessed and shared in a consistent format.
The platform can serve as a comprehensive system of record and can fully interface with other systems to better manage assets internally and between joint use partners. These options allow asset owners to continue maintenance of their own data formats, but also have the optional ability to share data of their choice with attachers in a consistent format. This approach to data sharing can streamline interactions with attachers and potential attachers by establishing a single source of record for permit applications, transfer requests, make-ready requests, and more.
To get started using a centralized platform, the primary data needed is the asset coordinates, basically the location. Additional information about who owns the assets, material type, and class can help establish the platform as a highly functional and efficient tool.
Data Search and Reporting: Making Use of Your Asset Data
Data can be presented faster and easier using search functionality. A centralized platform makes data accessible with basic queries, such as:
"Look for all the poles I own in any given state"
"How many poles do I invoice in region _______?"
"Summary of the number of attachments per company, by area."
"How many poles are in _______________ condition?"
"How many new attachments have I, the asset owner, received from 'CompanyABC' this year, by month?"
"View all of my utility poles by city in a pie chart."
"Where do I have violations?"
Within a system that can handle large amounts of data, this search functionality allows users to quickly and easily find the data they need. Searchable data should include information about assets, attachers, and activities, including the current status and a complete history for every asset. Multiple searches can also be combined to filter down to more precise results, and searches that are needed on a regular basis can be saved to a dashboard interface so they are easily accessible. Results can be formatted in a range of visual dashboards using charts and graphs for quick interpretation, such as pie charts, bar graphs, and timelines. For highly complex data sets that exceed the functionality of the data search, custom reports can be created.
Saved searches can be set to run on predefined schedules (i.e. every Monday morning at 9 a.m.). They can be automatically pushed from the system and sent to preset email addresses, or made available on users' dashboards. The ability to customize how, when, where, and who has access to data, and in what format they view it, is critical to maximizing the benefits of a centralized platform, as well as ensuring data security.
The Benefits of Sharing Asset Data
The primary purpose of a centralized platform is to serve as a lifecycle

asset management system; with a single system of record you can choose to maintain your platform as an internal resource, accessible only by individual employees of your choice. However, the option to securely share select pieces of data externally is available (for example, with

attachers

), which offers many benefits.

Asset data can be used to efficiently manage activities, especially for joint use assets. Precise data sets and searches can be identified and selectively shared with defined individuals – both within your organization and between other companies. Extensive security measures are built into the technology to ensure that users can access only the specific data that you choose to share with them, while all other data remains secure and private.

By sharing data from a single system, all data can be kept in sync and reliably accurate, regardless of how often it changes.

For example, if an attacher makes a trip to a utility pole and identifies a necessary repair, they can input that information into the centralized platform. The asset owner will immediately be notified and potentially saved from making their own trip to that same utility pole.

Additional benefits of a centralized platform include:
Self-serve data: Asset owners don't have to go through the hoops of providing asset data to attachers. Instead, owners identify which attachers can access which specific data and attachers can then pull the data they need.


More efficient pole transfer timelines: Asset owners can quickly contact attachers through the system to schedule pole transfer activities, send overdue notices, and make sure work is completed. This functionality may be even more valuable if the FCC begins enforcing stricter pole transfer timelines.


Reduced follow-up: Easily accessible data increases the likelihood that attachers will act on requests from asset owners. It will be simpler to do the right thing, while streamlining new services, like broadband deployment.


Data visibility: Clarity incentivizes attachers to meet asset owner timelines and requests. And on the flip side, allows owners to address the needs of attachers in a more timely manner.


Facilitate make-ready: Owners and attachers alike benefit from accelerated time to market for service deployment.


Streamline field activities: Asset owners need control over activities, such as maintenance and construction.
As a result of these benefits, asset owners and attachers require fewer trips to the field, possess more accurate data, and experience faster and easier communications with all joint use parties. The system becomes increasingly valuable every time additional participants are added.