---
The Growing Importance of IoT and IIoT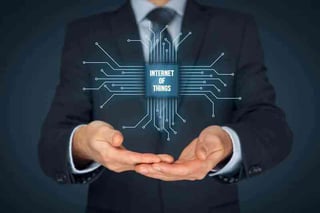 The Internet of Things – and the Industrial Internet of Things – promise significant changes and improvements for asset management and joint use in the years ahead
The information technology revolution is altering the way we communicate with each another, conduct business, travel live and even think. However, despite much progress, there are still obstacles to overcome.
Lawrence Livermore National Laboratory published a report in 2012 that highlighted the issue of energy waste. Our cars, home appliances, industrial systems and equipment, and power plants waste as much as 86 percent of the energy that flows through them. No wonder that spending on utilities is steadily growing.
While 663 million people live without safe water, the average American family wastes as much as 50 percent of all water devoted to outdoor uses, according to WaterAid, an international organization with a mission to improve access to safe water, sanitation and hygiene.
The Internet of Things (IoT) and its industrial counterpart the IIoT (Industrial Internet of Things) offer the tools we need to improve challenges like these, ushering in a new era of growth, prosperity, and efficiency. These tools are already highly sought after by consumers who enjoy their practical benefits. The smart-home industry generated $79.4 billion in revenue in 2014, and wearable devices are expected to reach $173 million by 2019. As technology improves and becomes more affordable, we can expect an exponential rise in adoption rates across a wide range of industries including: healthcare, logistics, utilities, retail, process manufacturing, discrete manufacturing, and wholesale.
Putting Data Collection to Use
According to Business Insider, "there will be 34 billion devices connected to the internet by 2020, up from 10 billion in 2015." Many of these devices will be used in manufacturing and other IIoT settings to collect large quantities of data from sensors, machine-to-machine communication and connected systems. This data can be fed into an artificial neural network and used for machine leaning, the science of giving computers the ability to learn new things on their own.
Machine learning backed by IoT and IIoT sensing technology could help us transcend our cognitive limitations, optimizing our infrastructure and industries to a degree that would previously be unthinkable. We are still years away from when most cars will be self-driving, but even the imperfect technology of today "could eliminate 90 percent of the deaths and injuries caused by human driver error," writes Gary Shapiro, the CEO of Consumer Technology Association.
The Potential of Machine Learning to Improve Utilities
If machines can make an activity that's as unpredictable and fundamentally human as driving much safer, then their impact on highly-structured industries such as utilities could be enormous. Self-improving neural networks relying on smart, connected home thermostats, electrical outlets, water irrigation systems and power switches could use real-time data gathered from millions of customers to maximize efficiency and eliminate waste. For example, the water industry would be able to better prepare for drought periods by intelligently adjusting the flow of water through a transportation system. As Fred Greguras from Water Online writes, "The IoT has great potential to make water use smarter for the agricultural industry, particularly in irrigation efficiency." For utility and telecommunications companies, the oil and gas sector, and all other suppliers in general, the embrace of the Industrial Internet of Things is unavoidable.
The Connected Future: A Competitive Imperative
Recent consumer studies say that modern shoppers are more environmentally conscientious than ever before. The 2015 Cone Communications/Ebiquity Global CSR Study states that 81 percent of consumers are willing to make personal sacrifices to address social and environmental issues. These findings are confirmed by a study from Nielsen, which mentions that more than half of all consumers are influenced by key sustainability factors, including whether a company is environmentally friendly.
Suppliers that fail to leverage modern technology and deliver the kind of service their customers want are destined to be pushed aside by competitors. This creates significant opportunity for established companies and new players alike to grow in new directions. Any investment in IoT and IIoT technology is likely to pay off in the long run, when nearly every electronic device is connected to the Internet.
The world is moving in the direction of a connected future, with major tech companies and majority of customers sharing the same vision. The changes that it brings will be far-reaching. In a single decade, we could eliminate many problems that loom over humanity by eliminating waste and maximizing the efficiency of critical systems.
Learn more about the future of asset management by downloading our ebook, "Joint Use Asset Management for the 21st Century"