---
Storm Hardening & Severe Weather Preparedness for Utilities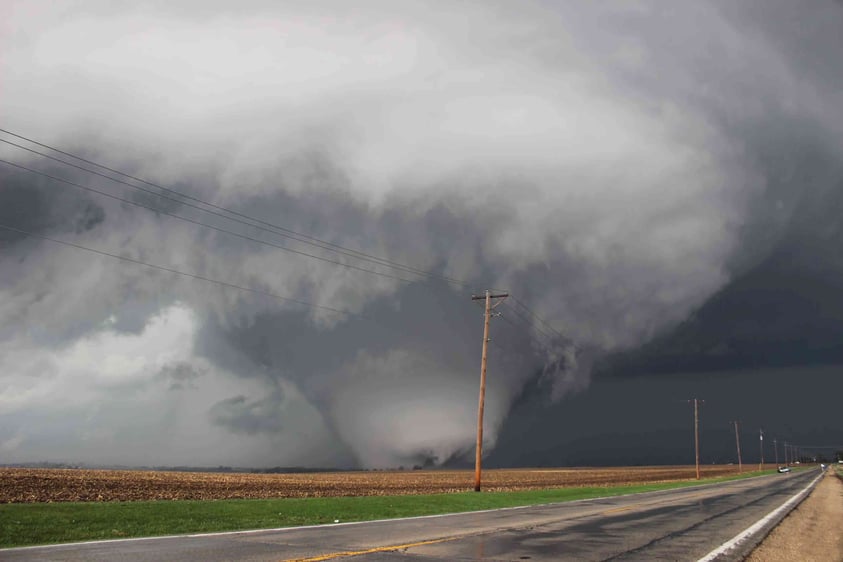 Utilities have always had to contend with the ravages of weather, particularly after massive storms that damaged or destroyed large swaths of utility infrastructure. In recent years, "super storms" and other major weather events that cause massive power outages have grown more frequent, more costly, and more intense.
Despite the increasing number of major storms, customers expect power to be restored swiftly following weather events. These expectations may be unrealistic in some cases; however, public demand is driving efforts to make infrastructure hardier and to make recovery preparations as well-coordinated as possible.
The increase in extreme weather events has pushed the utility industry to take a closer look at large-scale storm hardening in the past few years. Storm hardening preparations include physical improvements to infrastructure and equipment that enable it to withstand more intense bombardment from weather phenomena such as wind, flooding, and ice. Companies are reviewing their approaches to other forms of severe weather preparedness that can improve response times during power outages caused by natural disasters.

Bigger Storms = Larger Costs
As outlined by Utility Dive, the past decade brought some of the costliest storms in U.S. history, including Superstorm Sandy in 2012, Hurricanes Irma and Maria in 2017, and Hurricane Michael in 2018.
According to NOAA (National Oceanic and Atmospheric Administration), Maria caused an estimated $91.8 billion in damages, while Irma caused an estimated $51 billion impact, also knocking out power to 6M+ customers in Florida and 1M+ in Georgia. Michael was responsible for almost 2M power outages across the Southeast, according to the U.S. Energy Information Administration.
A 2013 report from the President's Council on Economic Advisers and the U.S. Department of Energy's Office of Electricity Delivery and Energy Reliability called for a more resilient power grid to combat the extreme weather effects associated with climate change.
"Scientific research predicts more severe hurricanes, winter storms, heat waves, floods, and other extreme weather events being among the changes in climate induced by anthropogenic emissions of greenhouse gasses," the report stated.

Big Problems, Big Solution
In terms of outages and dollars, numbers like the ones associated with the natural disasters of the past few years have shifted some attention from damage recovery alone to potential methods of damage prevention, collectively known as storm hardening. Utility Dive and T&D World identified some of these methods.
Solutions range widely, including:
Sturdier, more durable types of utility poles and transmission lines

Construction of barriers, including levees, to protect crucial equipment

Elevation of power facilities to make flooding damage less likely

Technological solutions, such as sophisticated switching and line designs that enable power feeds from multiple directions

Burying vulnerable power lines when possible
Such changes are costly. Public support in several heavily affected areas has led to government action. Florida's Public Service Commission, for example, approved an additional tax to power bills to bring utility infrastructure up to a higher standard, with the hope of reducing the effects of future events.
Utility poles are a major focus of storm hardening. NOAA recommends that poles in coastal areas be able to withstand winds of 145 mph. Some utilities are replacing wooden poles with those made from more wind-resistant materials, such as concrete.

Other Ways to Prep for Severe Weather
While storm hardening offers promising protections from extreme weather, the process is costly, complicated, and will take time to complete throughout a utility's infrastructure footprint. In the meantime, many companies are working diligently to improve other types of preparations for severe weather response and recovery.
A comprehensive, up-to-date analysis of a company's assets can pinpoint areas of greatest vulnerability and help to ensure adequate materials are located at supply centers to replace infrastructure as quickly as possible. In addition, this analysis allows companies to put detailed replacement plans in place for the assisting companies and contractors that are deployed when large natural disasters strike. Such preparations can speed recovery from large-scale outages while preventative storm hardening is still in the early or middle stages.
Be Prepared with Alden One®
At Alden, we're intensifying our focus on storm hardening to assist our clients. We are already conducting data collection, analysis, and management that will form the basis of a comprehensive plan, whether for standard severe weather preparedness or long-term preventative solutions.
No system is better able to put all the crucial information in one accessible place than Alden One®, the nationally recognized leader in joint use management platforms. Alden supplies real-time intelligence over a company's entire plant during storm recovery and speeds up the analysis necessary to put a storm hardening plan in motion.
Get more information about the difference Alden can make in the quality of your company's severe weather preparedness. Click here to speak with a product specialist.