---
Spring Cleaning: Violations and Backlogs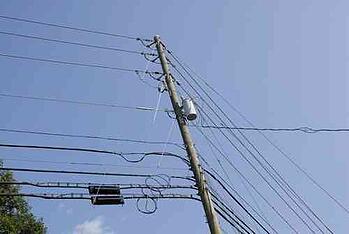 As the days lengthen and the sun shines a little more warmly on us, it is time to shake the dust out of our homes, our lives, and even our businesses. That's right, it is spring cleaning time, and for utility pole owners, that means cleaning house: heading violations off at the pass and knocking out backlogs. Both need to be remedied on a regular basis because both cost your company money.
If you have previously relied on pen and paper, an Excel® spreadsheet, or less-than-robust joint use management software to keep track of your assets or manage paperwork, it is also time for you to spring clean your processes and technology as well.
Curb Violations
The NESC leaves it up to electrical companies and pole owners to follow its rules and regulations and meet all requirements set out in its extensive rulebook. If an issue occurs, hefty fines can be levied, or worse, accidents could happen. Being up to code is difficult if you cannot say or document with accuracy who your attachers are and what is going on with your utility poles. Rot could be slowly, or quickly, compromising poles' structural integrity. Safe space may be at a minimum, causing headaches and dangerous situations for your employees. Illegal attachments, known also as bootlegs, could be compromising performance or safety.
To ensure regulatory compliance and proactively address problems before they become dangers that lead to fines, utility pole owners should conduct regular pole audits and maintain an easily accessible, updated database of information for each pole.
Eliminate Backlogs – Permit to Attach, Transfer, Violations
As demand for pole space increases and DAS, broadband wireless and others compete for inches on virtually full utility poles, keeping up with attachment requests and the mountain of paperwork that comes with them becomes a difficult task. Shuffling all that paper manually, without the aid of an integrated joint use management system to collect and analyze takes time, manpower and money. Not being able to run your joint use department as efficiently as possible can also delay attachment, and your ability to collect rent on them. Letting backlogs build up over a 45-day process time [1] is a serious issue and can be a real hit to your revenue.
Best practices show a three-pronged approach:
Inventory-led record keeping.
Use of intuitive joint use management software.
Employment of a smart joint use notification system to collect information on utility poles, map locations and connect all parties. Systems like this make communication efficient and electronic, so new requests can be handled in a timely manner, and you can work through any remaining backlog quickly.
It is time to clean house this spring. Now that you have the information to get started, what's stopping you? Choose an electronic joint use management system to do the heavy lifting for you before you are buried in backlogs.
[1] http://apps.fcc.gov/ecfs/document/view?id=6519864708