---
Protecting Utility Poles From Extreme Weather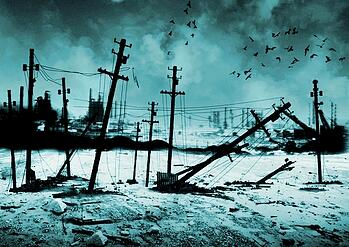 Record breaking cold temperatures, winter storms and Spring time tornadoes and hurricanes often wreak havoc on utility poles. On October 29, 2012 Hurricane Sandy struck the East Coast, flooding neighborhoods, destroying thousands of homes, disrupting transportation and shutting off power for more than 8.5 million households and businesses. And for some, power was not restored for weeks. Utility companies like Consolidated Edison Company of New York, Inc. (known as ConEd), which provides electric service to New York City, and Public Service Electric and Gas Company (PSE&G), which services the state of New Jersey, reported experiencing their worst storm damage ever.For PSE&G, that included damage to 2,427 utility poles, 1,022 transformers and 320 miles of conductor.1
Severe weather occurrences, such as hurricanes like Sandy, are the single leading cause of power outages in the United States. Power lines are inherently susceptible to damage from extreme weather (freezing temps, precipitation, strong winds, storm-tossed branches and high waves crashing beyond coastlines can all affect equipment) because so much of the infrastructure is based above ground (and it is anywhere from six to 12 times more costly to bury power lines than it is to put them in overhead2, and they themselves are vulnerable to damage from floods.) Moreover, most utility poles and wires are simply not designed to withstand the 90-mile-per-hour winds that swept through the northeast during Sandy.
There are things that utility companies can do to reduce the damage caused by extreme weather, and measures that they can take to minimize its impact and restore power faster. Two of the most important things? Tree trimming and proper asset management.
Tree Trimming
Falling trees and flying tree limbs are said to be one of the primary causes for utility pole damage during storms. (Connecticut Light and Power reported that trees caused more than 90 percent of their outages during Hurricane Sandy3.) Frigid temperatures and snow also create a hazard since the weight can cause lines to snap. Many states, like Connecticut, have laws in place that require utility companies to submit plans for what they call "vegetation management," but they do not also necessitate phases for carrying out tree trimming. Pole owners need to take it upon themselves to perform routine utility pole inspections that include identifying possible environmental dangers and routine maintenance to eliminate them (aka trimming trees near power lines) when necessary.
Asset Management
Damage to utility poles and power lines and loss of power due to the extreme weather conditions that occur with super storms like Hurricane Sandy is sometimes unavoidable, but a thorough asset management system can help utility pole owners prepare for such disasters. Things like up-to-date pole inventories and predefined workflows aid in improving response times. A management system that tracks open and completed jobs is also vital when trying to provide timely updates to customers regarding the status of restoring power. An open communication network for utility pole owners, attachers and their work crews is also necessary when additional challenges, like getting crews to poles on streets clogged with storm debris, require communication.
Some things, like the weather, are simply out of our control. We cannot stop hurricanes and other instances of extreme weather from occurring, but we can, as the Boy Scouts say, be prepared!
[1] http://www.pseg.com/info/retiree/pdf/Outlook_1212_Sandy.pdf
[2] http://www.npr.org/blogs/thetwo-way/2012/10/30/163970272/superstorm-shines-a-light-on-power-grid-vulnerabilities
[3] http://www.huffingtonpost.com/2012/11/01/hurricane-sandy-utility-outages_n_2053120.html