---
Pole Transfer or Double Pole Backlogs? What You Need to Know Now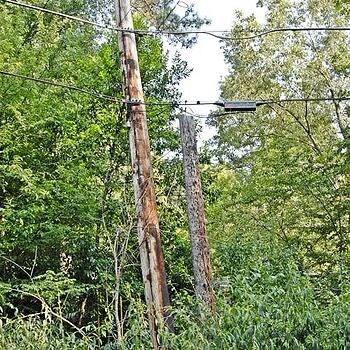 Managing joint use utility poles is no easy task – just ask a joint use administrator. There are so many details to track, from pole attachment details to NESC or rot/strength inspection data, contract information, attachment permits to outstanding pole transfers—the list goes on and on. Multiply that list by the number of joint use pole attachers you have (all the companies that share space on the utility pole), and you may quickly end up with a management nightmare. Here are some of the challenges that joint use utility pole owners face. We promise, they can be solved.
Pole Transfer Backlogs
For every pole attachment your partner companies add to the utility poles you own, there are permits to apply for, forms to be filled out and filed, etc. It is a daunting task to keep track of it all.
The result can be a major backlog of paperwork. This backlog only gets worse over time, continuing to pile up due to lack of time, personnel and sheer volume of work to be done. As paperwork piles up, some of it can easily be overlooked. When this happens, pole owners can then end up with illegal or unlicensed pole attachments. As the pole owner, you are ultimately responsible for those attachments. If you are an attacher caught with bootleg attachments, it can lead to a heavy fine.
Another problem is that, when attachments go undocumented, too much equipment can end up on a single utility pole, leading to an overload. This weakens the structural integrity of the pole and will ultimately bring it down (usually in the middle of the night, during a snowstorm, when truck rolls are the most expensive). You then have to deal with outages and damage to the surrounding area, in addition to replacing your pole.
Pole Transfer Issues
Managing pole attachments and associated permitting paperwork is difficult enough on its own. Add pole transfers to the mix and you complicate things even further. One of your utility poles is worn out and being replaced, so all of your partner companies need to transfer their equipment from the pole in a timely manner.
Imagine a scenario where you send out a mass Transfer Notice email to all of a pole's attachers, but you get almost no response. You have no way of knowing if the proper contact even received your message. Even if they did, these companies have a lot on their plates, just as you do. It is entirely possible that without a joint use notification or management system in place, all your attachers may not "get the memo," so to speak.
This ultimately results in double poles, or doublewood, as it is often called. Double poles are not only unsightly, but can be dangerous. The old pole was worn out, which caused the need to transfer in the first place, and if left for too long, the pole can fail.
Centralized Joint Use Management Platform
The secret to handling all of these issues is easy, open communication with your partner companies. To do that, you need Alden One®. Using this type of technology allows you to connect with attachers efficiently and maintain an ongoing dialogue about important asset issues. Attaching companies, contractors and other key stakeholders can also use the system to keep you updated regarding work status.
Streamlines your business processes regarding joint use poles, conduit, cell towers, and other assets. It improves communication, leading to better organization, as well as field safety. Get everyone involved – pole owners and attachers. We work better when we work together.