---
Navigating the Field Asset Management Cycle: Keeping Data Current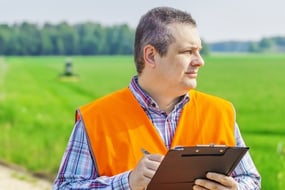 Effective field asset management is not a straight line from installation to decommission; it should be viewed as a continuous loop, a cycle of data acquisition, interpretation, and renewal for all your field assets. The question is: Where are you on the field asset management cycle? The final step involves staying up-to-date with your data.
Field data has an expiration date. Data begins to age as soon as it's collected. Things change in the field in an instant: age, weather, wildlife, even bootleg attachers can strike. In order to keep your data working for you, it must be updated regularly. You need a partner dedicated to assisting you in developing strategies that keep asset records current through ongoing management.
You may need smarter ways to update your data if you find yourself asking the following questions:
How can I trust that all of my data is accurate? — Close counts in horseshoes; not in data aquisition. You need data reconciliation services that take a close look at differences between your data sets, reconcile disparities and responsibility for your equipment and make sure every point makes it into your current enterprise system quickly and accurately.


What is the best way to keep data current? — Data is everywhere. Insight into what that data means to your business, however, is much harder to come by. You need a team that works directly with your staff to identify strategic business goals and software solutions to enable you to monitor, manage, and measure actions against the items that matter to your business.


How do I minimize the need for an inventory investment? — Asset inventories can be complex and time-consuming. Historically, as data sets age, their reliability decreases and working with data you cannot trust is certainly not a best practice. By collecting each asset's attachers, maintenance updates, and contracts into a single, dynamically updated source, your inventory data can be continuously refreshed rather than recreated.


How can I ensure that my contracts' terms match my needs? — Contracts can be tricky. You can employ software to help manage them or work with a partner who will take care of the details for you. Making sure agreements are kept up-to-date helps to ensure that your company does not violate any terms or lose track of any vital communication points.


What You Can Do to Keep Your Data Current
A smart infrastructure asset management partner can help your company develop a strategy to keep asset records current through business process review, project management, program design and full-service consulting that leverages a laser focus on your industry to benefit your team, process, and bottom line.
Closing the Loop
Once you have your data and have gained context from it, the cycle continues. To make your newly acquired information useful over the long term, the data has to be updated as conditions change in the field. Processes must be in place to ensure that the information you have is the right information. The cycle is continuous.
You need a problem-solver, not just a data collector; a process creator, not just an inventory expert. You need a partner dedicated to helping you travel the field asset management cycle effectively, successfully, and with your goals in mind. A good infrastructure asset management partner will help your trip around the field asset management cycle go smoothly and help you gain clarity and take control of the assets that make your operations run. And that makes everyone happy.
Wondering if your joint use management software or service provider can help you successfully travel the joint use cycle? Check out our list of 10 must-haves before you decide on a solution.