---
Left Behind: Dealing with Abandoned Equipment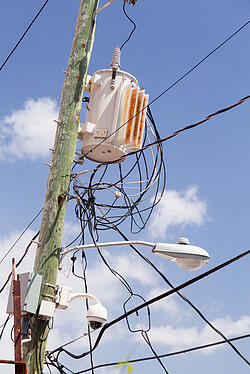 Utility pole real estate is prime property, which is the main reason why pole owners should never suffer space and revenue-wasting bootleg attachers. It is also important to consider abandoned equipment taking up valuable space on poles. Whether intentional, by accident or simply because of a lapse in process or workmanship, all attachers from CLECs to ILECs, fiber providers to CATV may abandon equipment on poles. Abandoned equipment cause headaches for both pole owners and attachers alike, no matter how insignificant the orphaned item may seem.
Consider this example: An attacher neglects to remove a J-hook from a pole, having already buried its cables. This simple mistake regarding a small piece of equipment may allow the pole owner to bill the company for an attachment. Contractual obligations can also create situations that hit attachers directly in their pocketbooks. If a contract specifically states an attacher must give written notice to the pole owner that they will be detaching, and they do not, they will likely experience inflated attachment billing—i.e. billing for an attachment that is not physically on the pole any longer.
What does this mean to pole owners and what can be done?
Billing for attachments that are no longer present amounts to inefficiency and can cause confusion in the event of a downed or damaged pole. So, what can be done to make things right?
First, utility pole owners should conduct regular physical pole audits and compare attachments with records and contracts to ferret out abandoned equipment. They can then charge appropriately for the orphaned items and/or contact the attachment owners to remove the offending equipment to make room for legal, up-to-date attachments. Owners must also be sure to have contracts and contact information cataloged and searchable via an online, intuitive joint use management system for best—and easiest—results.
Finally, utility pole owners can also bring attachers along on inventory day. Participating in a pole owner's inventory and negotiating with the owner is also a common practice.
The bottom line: all parties—attachers and pole owners—will benefit from being thorough when it comes to cataloging and indexing equipment. Knowing where all the parts and pieces of your business are is just good practice, and good for your bottom line.
Tags: