---
Lawsuits and Liability: When Poles Break, You May Pay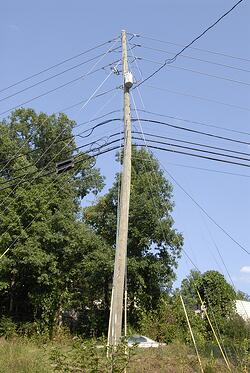 Accidents involving utility poles happen. Many involve automobiles toppling or breaking poles in crashes — a situation pole owners can mitigate a number of ways— but attachment load and the health of the pole itself can also play a role in whether its likely to create a dangerous public hazard.
In January of 2014, a fire on a utility pole led to closures on two interstate ramps in Minnesota, causing chaos during a heavy weekday rush-hour[1]. While this instance perhaps falls more into the nuisance category than serious danger, utility pole fires have caused significant damage to property and untold environmental damage on numerous occasions.
Consider the $99 million dollar lawsuit filed in California against a local power utility in 2011. According to the California Public Utilities Commission's Consumer Protection and Safety Division, a fire broke out on several poles in 2007, sparking a blaze that destroyed 14 structures and 36 vehicles in the Malibu Canyon area. Investigation found that the "poles were so top-heavy with electrical and telecommunications wires and equipment that they broke up in winds they should have been able to withstand." Further research notes that five different companies shared ownership of the poles, greatly complicating determination of liability. In the end, one company paid nearly half of the fines.
Injury stemming from pole collapse is also a scary possibility. While some cases involve the public, many also include utility employees. In July 2012, Florida Public Works employee, Emmanuel Baker was paralyzed when a utility pole snapped during a storm and struck him in the head. Baker was eventually awarded $8 million in settlement in a lawsuit against the pole owner and Osmose Utilities Services[2].
What can utility pole owners do to reduce liability?
The need to visually inspect all utility poles for NESC violations, dangerous conditions and attachment overload is vital. A clean bill of health for a utility pole means a lessened possibility of collapse or overload, and lessened liability on a pole owner's part.
Trained, effective pole audit forms the foundation of good practice, but the additional use of joint use management software gives owners the ability to quickly, easily keep track of attachments (reducing overload) and pole age and other statistics (reducing rot and breakage) vital to making sure a snap, fall, fire and resulting lawsuit, is not in your future.
1 http://www.startribune.com/239686091.html
2 http://www.gainesville.com/article/20131218/ARTICLES/131219576