---
How Utilities Can Build a More Responsive Mutual Aid Network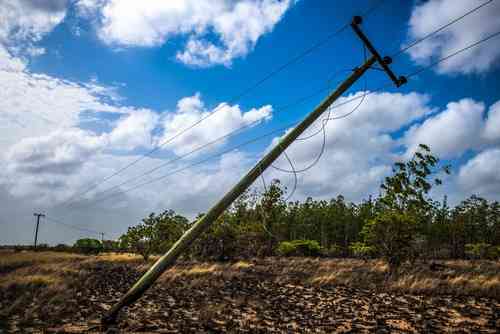 For power and communications providers preparing for storms, wildfires, or flooding, every moment is critical. Mutual aid agreements are a necessary tool to help the
nation's infrastructure repair and rebuild
after major outages. However, valuable time is spent manually communicating with dozens (or hundreds) of other companies to request help and coordinate the response
Time is of the essence in these situations. Automated systems for managing mutual agreements speed up response times, may reduce cost, and help avoid confusion. A shared, centralized asset database is ideal to ensure coordination. This secure platform makes it easy for organizations to:
quickly distribute aid requests to all mutual aid partners
communicate specific needs to each partner
identify and commit available resources
track available support
coordinate communications and efforts among all parties in a central location
This approach offers several benefits to organizations dealing with a disaster response and to those providing assistance.


Clearly Identify Mutual Aid Partners' Available Resources
Companies enter available resources into the central database, sharing updates in real-time. All data is securely shared only with the other organizations based on each organization's mutual aid agreement(s). This allows companies to identify the types of assistance available at a moment's notice.
For example, carrying out power restoration following a major event requires specific skills and roles, including:
Damage assessors
Dispatchers
Managers
Logistics teams
Field personnel
Repair teams
Service engineers
By identifying the specific skills, equipment, and other resources immediately available, an organization facing an impending disaster can be confident the exact personnel with the skillsets needed will be able to respond quickly and fully.
As every organization has specific expectations and needs, it is helpful to create contracts for mutual aid agreements that detail relevant issues, such as:
Pay rates and overtime definitions
Union and non-union coordination
Equipment brought in by utilities providing assistance
The number of people on the crew
The number of supervisors
When this contract information is entered into a shared, centralized asset database, it can easily be updated to ensure accurate and timely information is accessible by all parties.
Helps Identify "First Ring" and "Second Ring" of Support
As utilities become familiar with the participants in their mutual aid networks, they can identify partners whose approach is the best fit for their needs. This helps utilities to identify a first ring, second ring, and so on to prioritize the partners who assistance will be most useful, and where relationships are already established.
Map the Predicted Path to Asset Locations
The predicted path of storms can change frequently in the days leading up to an event. Being able to overlay key information on top of a map of a company's existing assets allows providers to better understand the potential impact and plan an appropriate response. Any type of boundary data, such as zip codes, can be overlaid on a map (like the one shown below), along with storms in view, fire zones, and more.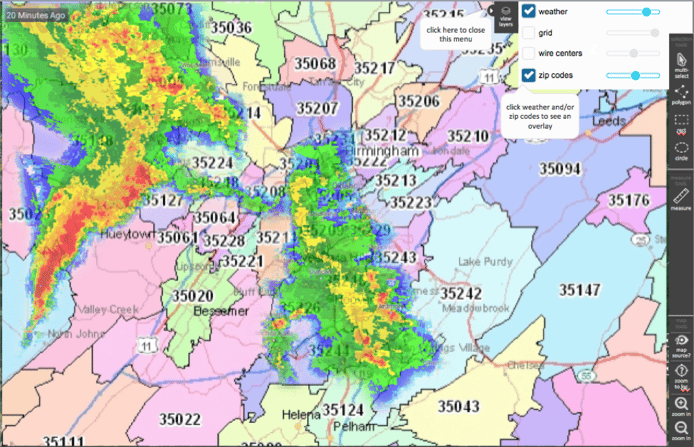 Deliver Faster Communications in Advance, During and After a Disaster Response
Coordinating logistics for the guest workforce is a massive undertaking, and is critical for focusing the crews' time and energy on restoration work rather than logistics. A shared, centralized asset database delivers consistent information with all visiting crews about:
Housing and related services
First aid
Required safety training
Available materials and equipment
By making these details available in a single location that is accessible by all crews, accurate and consistent information can be provided quickly to all parties involved.
Streamline Financial Accounting
To apply for federal financial assistance, utilities must keep and organize extensive records including costs for labor, equipment, contractors, and mutual aid. A shared, centralized asset database is an ideal location to organize data for the various departments that need it.
Maximizing the Power of Mutual Aid Agreements
The give-and-take of mutual aid organizations is one of the best and most necessary functions of our country's power and communications networks. By automating and streamlining this historically manual and complex process, critical time and costs can be saved when an organization or region is facing a disaster with widespread outages. The key to this significant process improvement is for all mutual aid partners to
adopt the same shared, centralized asset database
to enable consistent communications and secure data-sharing.
If you are ready to deploy modern technology to streamline your internal and field processes, click here for more information. We are standing by to help!