---
Delayed Pole Transfer and Injury: A Serious Problem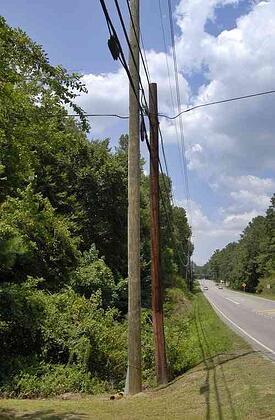 According to a study conducted in New York State, among 1,134 non-standard conditions discovered during 2,023 utility pole inspections, a full five percent of poles in violation were in the midst of an uncompleted transfer.[1] We have already offered a bit of advice on how to entice attachers to transfer, but why is getting an attacher to move their equipment from one pole to another such a vital activity? For the most part, it is about safety.
"Tens of thousands" of double poles are said to litter the roadsides of New York state. This is according to a bill introduced in 2009 that requires the state's Public Service Commission to order the pole owner to conduct an inventory of double pole conditions and remove double poles or pay a per-month, per-pole penalty.[2] That is tens of thousands of potential safety issues waiting to happen. Why are double poles so dangerous? First, utility workers cannot safely climb double poles. Old, deteriorating poles further weakened by whatever incident caused the utility to need to install the second pole (insect or storm damage, rot or an automobile collision, for example) can fall, posing a risk to the public. Double poles also create a larger obstacle to collide with in the case of a car or bike accident, causing an increased chance for serious injury.
Sadly, injuries resulting from double, damaged and falling double poles do happen. A woman in Wakefield, Massachusetts was injured just this month (June 3, 2014) when a pole fell as she pushed her two children in a stroller.[3] There were no fatalities in that instance, but many others have not been so lucky. In February 2012, a Cowlitz County, Washington lineman was seriously injured during the removal of a double pole.[4] Earlier this year in Pennsylvania, a man was killed by a falling utility pole while driving his car.[5] The list goes on.
Secondary to safety concerns is a utility company's desire to foster good will with the communities in which its poles reside. Double poles, some say, reduce property value and contribute to urban blight. Neither situation creates a favorable public image for utility owners.
Returning to the New York study findings, since discovering the double pole violations, the state has taken action, and other state utility regulators, legislatures, and municipalities have also worked to put processes in place to combat the problem. Among their recommendations: choosing joint use management software to be implemented statewide.[6] This is a great idea for any pole owner hoping to get a handle on pole transfer requests and complete them quickly. Using online joint use management software organizes all your asset information and seamlessly connects pole owners to attaching companies, helping utility pole owners remedy double wood on the double.
[1] file:///Users/kendrarainey/Documents/Work/Spot%20On%20Agency/Alden/Resources/%7BE187D8A3-4C23-448C-8BFE-BFFC7491D835%7D.pdf
[2] cwalocals.org/sites/d1/Western_New_York/index.cfm?action
[3] http://www.whdh.com/story/25680989/mother-2-kids-hit-by-falling-utility-pole-in-wakefield
[4] http://tdn.com/news/local/cowlitz-pud-lineman-seriously-injured-by-falling-utility-pole/article_50223b1e-4d36-11e1-8d73-0019bb2963f4.html
[5] http://wnep.com/2014/03/21/car-crash-snaps-utility-pole-in-half-driver-killed/
[6] file:///Users/kendrarainey/Documents/Work/Spot%20On%20Agency/Alden/Resources/%7BE187D8A3-4C23-448C-8BFE-BFFC7491D835%7D.pdf