---
D is for Define: Knowing Your Assets in Utility Pole Inspection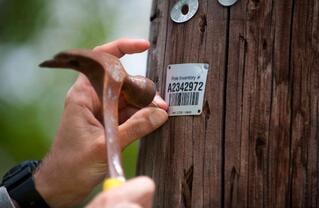 From first sight to final inspection, inventories are a vital part of successful field asset management. So what really happens out there during an equipment assessment? Today, we take a look at another step in the process: Defining Asset Characteristics.
In our example, technicians would have viewed the pole from afar, approached and appraised it up close, captured specific data about the asset's conditions and attributes and identified any potential violations. Field technicians record any number of characteristics about the structure.
This kind of detailed data discovery can be incredibly valuable and is especially vital in today's landscape, where predictive infrastructure asset management could potentially give owners the ability to know in advance when to expect a piece of equipment will likely require specific types of maintenance. This kind of thinking could potentially mitigate the coming influx of mass asset repair and replacement that we are on the cusp of in the U.S. today due to aging infrastructure.
A good utility pole inspection provider will offer a number of services that paint a well-rounded picture of each asset in the field.
These services can include owner identification, equipment tagging and scanning, rot testing, violation reporting such as NESC or state-specific, and the collection of photos, and structural attributes.
What's Next?
E, for Equipment Management. Once pole characteristics have been recorded, technicians will move on to surveying attached equipment, our letter E. Check out this entry next week as we cover this step just past the mid-point in the utility pole inspection process.