---
Small Cell Backhaul Requirements for Telecommunications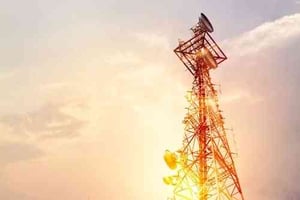 Businesses are in a rush to get small cell wireless attachments deployed. In the past couple of years, competitors entered the field and practically raced to the utility poles and other infrastructure to get in on the rollout of next-generation wireless technology. Several companies introduced fixed 5G service in 2019, with larger-scale rollouts in 2020 and beyond.
Communications companies are counting on small cell deployment to support new technologies, eliminating coverage drops in dense urban settings, and providing seamless access to 5G's ultra-fast speeds.
Small cell is a compact antenna system designed to serve limited areas. They are typically attached to utility poles, streetlight poles, or mounted on buildings.
The number of small cell attachments in the United States reached 395,562 active sites in 2019, according to the wireless industry trade association CTIA, and thousands more have been added this year. According to the Federal Communications Commission, the number has been projected to reach an estimated 800,000 by 2026.
The point of small cell deployment – better, faster, more reliable, and versatile wireless service – will be negated if the backhaul (that pulls information from the core network to the small cell) isn't ready for the task. End-to-end high performance is necessary to satisfy consumers' service expectations.
Backhaul Options
From the beginning, optical fiber has been a favored method of backhaul for small cell deployment, at least in the U.S. Fiber has a longer range than the previously-used ethernet, as well as greater capacity, larger bandwidth, and lower latency. Plus, the existing infrastructure is strong.
Fiber is ideally suited to meet the growing demands placed on wireless services, such as faster upload speeds to accommodate the growing number of sensors connecting automobiles, home systems, and devices.
While fiber is positioned to be dominant now, several other forms of backhaul are available as practical alternatives, including copper ethernet, millimeter wave, microwave, and satellite.
In locations where fiber is already in place, it is likely to be used, even if it must be upgraded. The cost of upgrades can be justified by the competitive advantage and potential profits for companies who can quickly and smoothly supply reliable 5G service.
The cost is much greater to put fiber where it doesn't already exist. Businesses may find that negotiating right-of-way agreements in some locations is time-consuming and causes unacceptable delays in small cell deployment. Creating street-level backhaul from scratch is a big job. Other backhaul solutions may be attractive alternatives to fiber in those situations.
Most often, communications providers will choose to use backhaul from the small cell to an existing macro cell, as long as the macro has adequate capacity to backhaul the combined traffic to the mobile telephone switching office (MTSO). The alternative would be backhauling directly from the small cell to the MTSO.
If the backhaul capacity from the macro to the MTSO is inadequate, industry experts suggest, the company should consider investing in an upgrade that includes plenty of capacity for future growth. The development of a bottleneck in the backhaul must be avoided. A management system that allows remote troubleshooting improves security.
The overall goal is consumer satisfaction—and for the consumer, the quality of wireless experience is everything.
3 Major Trials to Face
As the wireless trade association CTIA states, the leap from 4G to 5G is the difference between connecting everyone and connecting everything. Companies that make the leap successfully stand to win big. Providers face these key challenges, and backhaul management is a crucial element in all three:
1. Reliability
If a provider's infrastructure doesn't deliver increased speeds and dependable connections customers expect, they will look elsewhere for service.
2. Time
The new technology has arrived, and speed of deployment is critical. Being late out of the starting gate will result in competitive disadvantages moving forward.
3. Cost
Significant investment may be required, but with the sheer number of small cell deployments involved, wireless companies must be smart about spending. Backhaul that supports cost-effective deployment without sacrificing reliability can help keep companies competitive through a technological change that's likely to continue for many years.
Taken together, these challenges are daunting. A logical, well-coordinated approach to backhaul decisions and small cell deployment, in general, is a key to delivering the quality of experience that wireless customers are demanding. The potential rewards offer the best possible incentive to get it right.
What backhaul issues have you encountered or do you anticipate in the deployment of small cell wireless attachments? Which backhaul solutions do you think will work best for you? Learn more about backhaul solutions with Alden's Guide to Small Cell Technology for Joint Use Professionals.
For questions about our products or services, book a meeting here.