---
4 Ways to Streamline Joint Use Processes for Small Cell Deployment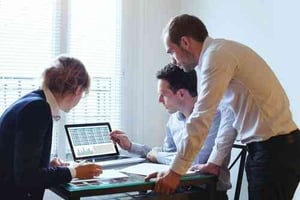 One of our clients recently mentioned that within just a few weeks, their joint use department went from having five small cell attachment requests to thirty. This rapid increase in attachment permits is coming for everyone. One way that electric utilities, telecommunications companies, and other asset owners can address the rush of small cell attachment requests is to consolidate existing joint use processes.
Picking Up the Pace
Surprisingly, spreadsheets are still a common way to manage joint use data. Spreadsheets may be familiar, but do not work for their users; they are manual, difficult to share, and easy to overwrite (causing data inaccuracies). Good joint use management demands a massive amount of data, and a
system that helps manage all of it
, combined with defined policies and procedures. Spreadsheets will not help users or companies scale up for the influx of small cell and other requests.
The most effective way to streamline joint use and respond to attachment permitting requests is through a joint use platform.
With a data management system in place, these are our top 4 strategies that asset owners can put in place to help simplify joint use tasks:
Consolidate Joint Use Asset Data in an Accessible Format
Securely Share Data
Integrate Asset Data with Other Internal Groups
Create Workflows
1.
Consolidate Data in an Accessible Format
To begin, consider all of the data that joint use management entails:
Pole management

Vault management

Attachment permitting

Small cell & DAS

Fiber

Streetlights

Towers

Pole transfers

Pole and vault inspections

Billing and invoicing

Contract management

NESC inspections

Contract reviews

Conduit audits

Right-of-ways (ROW)

Insurance requirements

Invoice management

Make-ready construction

Overdue applications

Safety zones

Fire zones
That's a lot of data!
It is time-consuming to manage all this aspects of joint use, especially in a spreadsheet or through multiple systems. Making management as efficient as possible can help ease the chore, stop miscommunication, and prevent mistakes.
Once an owner or attaching companies' data is available in a joint use platform, the benefits are immediate. Here are a few:
Historical records: With the complete history of any asset readily available, users can make better-informed business decisions throughout an asset's lifetime, and have a single accurate record rather than struggling with uncertainty.



Powerful search and filter functions: Locating specific asset information quickly is simple with the ability to search or filter by date, location, asset name, asset type, and other characteristics. Frequently-used searches can be saved to run repeatedly.



Mapping functionality: With all assets plotted on a map, users can reduce the number of field visits, reduce permitting backlogs, and eliminate redundancy in the field.



Dashboard overview:

A visual "dashboard," similar to the dashboard on your car that is customized for any individual user, can provide a central touch-point to stay informed. Dashboard summaries and time-sensitive notifications update individuals about past-due permits, pending permits, third-party trespass, third-party violations, and more.
2. Securely Share Asset Data
Sending emails back and forth for every request, from every potential attacher, and for every interaction will quickly fill up an inbox, and is the key recipe for lost data and inefficiency. Entering joint use data into a secure system that allows select data to be shared with defined users makes it easy to track interactions and introduce automated communications, such as reminders and past-due notices.
It is highly beneficial to be able to share joint use data with internal staff and groups (such as engineering, accounting, operations, and management teams) as well as approved external stakeholders (consider attachers, potential renters, other owners, outside contractors, etc). However, security is paramount in maintaining data control. It is critical to have the ability to define exactly what data the user wants to share, down to specific data fields. Users should be able to customize data sharing based on defined user roles and business objectives.
3. Integrate Joint Use Data with Other Internal Systems
Set up rules to automatically transmit asset data to enterprise applications (such as GIS, WMS, FIS) to ensure that engineering, operations and finance are operating efficiently and effectively. When joint use communications are critical, this feature is a must.
4. Create Workflows to Streamline Company Processes
Custom workflows in a joint use platform is crucial to streamlining joint use processes. Why? Workflows guide users through standard, daily procedures and ensures consistent data quality. Workflows keep individuals on track and organized and keep companies united in process.
Is the Joint Use Community Prepared for Small Cell?