---
Winter Weather & Utility Poles: Prepare for and Overcome Ice & Snow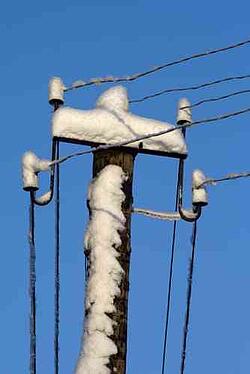 Snow days can be fun, but winter storms can be some of the must damaging weather events to occur throughout the year. Winter storms affect communities and the people within them in a number of ways - from health risks due to below-freezing temperatures and blistering winds, automobile accidents from icy roadways and heavy snow, to power outages from downed utility poles and damaged power lines. Consider the following ice storm facts from The Weather Channel to understand the severity to utilities that winter weather can bring:
Ice can increase the weight of tree branches by 30 times.
A 1/2 inch accumulation of ice on power lines can add 500 pounds of extra weight.
Accumulations of more than 1 inch of ice are considered "crippling" and often result in severe tree damage and power outages that may last for days.
In 2009, one such crippling ice storm occurred in northern Arkansas, southeast Missouri and Kentucky. Rated by the National Weather Service as the "worst weather event of the decade" in certain areas, the storm resulted in 1.3 million people without power across multiple states and marked the largest power outage in history for the state of Kentucky (609,000 homes and businesses lost power). Additionally, more than 30,000 utility poles were downed throughout Arkansas and more than 145 miles of transmission lines were downed in Missouri .
While we cannot stop winter weather from occurring and we have have little recourse when it comes to limiting its damaging effects (trimming trees around power lines is the biggest line of defense), what we can do is be prepared for the eventuality of storms so power can be restored as quickly as possible - a necessity that is made even more critical for customers during frigid temperatures. In addition to preparing personnel to be ready to respond, arranging for outside contractors to be available to assist, and ensuring that the necessary supplies are at hand, perhaps the greatest necessity in bringing power back quickly is communication.
Good communication is needed to inform workers in the field as to which utility poles have damage, where they are located and what attachment lines need to be restored. Workers should be able to update each joint use company with the status of the restoration efforts. Each entity involved also needs to then share this information with their customers. Continued winter weather conditions like freezing temperatures, falling snow and brisk winds can make the repair process challenging - and dangerous - for utility crews and it is important that utility pole owners are kept abreast of the constantly changing situation in the field so they can provide the public with accurate information.
A management system for all of this information can also prove vital - such joint use systems that store details regarding utility poles and track open and completed jobs so it is easy to keep track of workflows and hold workers (and the companies for which they work) accountable. Open access to such a system for workers will help facilitate restoration. Workers can then have direct access to information such as the existing attachments on utility poles. Having a great management system is like cutting out the middleman in order to get the job done more quickly and more efficiently - and that is always the goal in restoring power.