---
What Lies Beneath: Safety, Security and Underground Vaults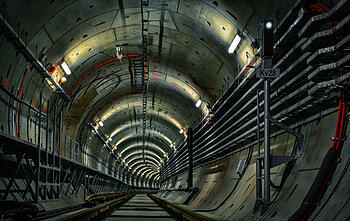 A sniper opened fire on a California substation on a dark night in April of 2013, however, the story began sometime earlier in an underground vault, where telephone lines were cut hours before the substation was fired upon. While grid security in the age of vandalism and potential terrorism threats is a vital part of the daily utility industry conversation, safety in the underground vault is just as important. The things that can go wrong beneath our major cities might surprise you.
Donnie, a Joint Use Manager for a large telecommunications company asks, "What type of horror stories are you looking for?" Indeed, there appears to be quite a few possibilities. From the mistakes contractors make, such as "running their fiber through the ladder and knocking a two-foot hole in the side of a vault to place a two inch conduit" to "realizing a restaurant has used your pull box as a drain for used cooking oil," or finding the vault is full of "used needles," what your guys can encounter is varied, often unsafe and sometimes downright scary.
Zach, a project support analyst from Birmingham tells a similar story with more direct financial ramifications: "During a recent sample audit of vault structures for a mid-sized metro area, the company we were working with discovered conduit violations for structures they had hired a contracting company to complete on their behalf. By performing the sample audit, the telecom company identified countless violations throughout structures that had been associated with this six-figure contract for repair work. Most audits discover illegal occupations, violations by third party attachers and structure damages but this audit also revealed that the contracting party and subsequent inspector had failed to complete the project to the telecom company's standards." In this case, the violations were so extreme they would have made the telecom's conduit inaccessible to third parties looking to rent space for their fiber, costing the company substantial revenue opportunities.
Cleaning up the Underground
What can you do to take the surprise out of removing that manhole cover?
Audit. Complete a comprehensive inventory of vault conditions to understand what is going on in your vaults. Are there bootleg attachers? Holes knocked in walls? Other safety or security concerns? What is occupied and what is available? If you never look, you will never know, until you send the next worker down to see—and that costs money, every time.

Track. Record sanctioned attachers and shut bootleggers out of the game. Collect the rent that is yours, and keep it all organized, updated, and accessible to answer the important questions when the next request comes along.
Know. Understand the state of your vaults, keep a close eye on what happens below or you may lose revenue, increase your security risk and impact the safety of the public, and your own employees.
Vaults. We may walk over them, but do not overlook them as an important piece of the joint use management puzzle.