---
Utility Poles & Technology: How New Tech Helps the Utility Industry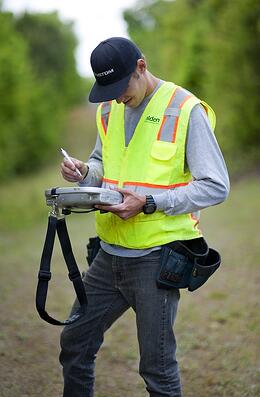 Utility poles were first used in the mid-19th century — over 150 years ago. It should be no surprise that the industry has changed since that time: cables are thicker and are often made of optical fibers instead of copper allowing them to carry higher voltages, for example. This improvement, and many more, is all thanks to the implementation of new technology.
While new technology can (and has) helped advance utility poles themselves, as well as their capabilities, new technology can also be used to advance the management of the utility poles and efficiency of joint use processes. Keep reading to learn how technological developments in the digital age can be used in the utility industry.
Digital Asset Records
From utility pole and asset inventories to joint use partner contracts, records that were once maintained via paper, can now be stored digitally. We are not talking about mere spreadsheets, today there are comprehensive joint use notification systems that are designed specifically for the management of utility poles, conduit, cell tower and other similar assets. This allows for the safety of files and documents (paper, and the writing on it, can be destroyed by flood and fire, not to mention being simply lost or accidentally thrown away). It also allows for easier access to files.Documents can be archived through online management systems that allow users to search for particular files and retrieve them in an instant (it could take hours to find a particular document locked somewhere in a filing cabinet).
Paperless Communication
Web-based communication systems allow companies to easily communicate internally and externally, all while saving the communications in case they are needed for reference in the future, reducing paper costs and limiting a company's eco-footprint.
GPS-Based Inventory
GPS technology allows utility workers to capture GPS coordinates (latitude and longitude) of utility poles and assets in the field in order to provide exact location information for pole inventories and repairs. It also quickens the inventory process – workers can capture location coordinated with the click of a button.
Social Media
When people hear the term social media they may immediately think of catching up with their friends from high school, but social media can be a very important tool for utility companies. For example, social media, such as Twitter or Facebook is now used to provide information to customers regarding estimated power restoration times after weather systems that cause widespread outages.
Smart-Phone Applications
Utility companies are now even embracing smart phone technology and developing apps. One such app lets users report leaning utility poles and trees growing into power lines. "The application allows users to use a smart phone to photograph the hazard and the closest utility pole number corresponding to the hazard's location, identify its GPS coordinates, and define the hazard type from a drop-down menu." The data will then be provided to the local utility companies for further action.1
There are many more ways than those listed here to improve utility pole management through advanced technology, and there will continue to be even more as technology advances. It is often easier to accept these new technologies when they affect the physical industry assets such as the utility poles, however, the value of technological improvements for the management of poles can be even greater.
[1] http://www.nj.com/independentpress/index.ssf/2013/08/warren_township_seeks_help_in.html