---
The State of Broadband in America (2 of 3)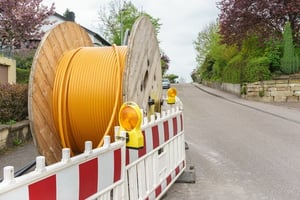 In the first post of this series, we discussed reasons why the FCC repealed the Title II Order (net neutrality) as a step to accelerate broadband deployment.
"…While we are now headed in the right direction, our work has just begun. Far too many Americans still lack access to high-speed Internet…"
Federal Communications Commission (FCC) Chairman Ajit Pai gave the above statement in the recent 2018 Report on Broadband Deployment. He emphasized that, "…the FCC's top priority under my leadership remains bridging the digital divide and bringing digital opportunity to all Americans."
The report details the actions that the FCC has taken over the last year, since Pai became chairman in January 2017, to accelerate broadband deployment across the U.S. The report also frames the requirement within the Telecommunications Act of 1996 that "the FCC determine annually whether advanced telecommunications capability is being deployed to all Americans 'in a reasonable and timely fashion.'"


Actions to Speed Up Deployment
Following Chairman Pai's priorities, the FCC created a Broadband Deployment Advisory Committee to ensure sufficient focus and resources are committed to closing the digital divide. The FCC has also taken additional steps to support more aggressive broadband deployment, including repealing the Title II Order, which we wrote more about in the previous blog post in this series, as well as:
Reforming the legacy high-cost universal service program to ensure accountability and introduce opportunities for new entrants through reverse auctions
Modernizing the rules for business data services to encourage facilities-based competition
Authorizing new uses of wireless spectrum, both terrestrially and in space
End Goal Remains the Same: 25 bps/3 Mbps
Last year, the FCC considered lowering the threshold for what qualifies as broadband, which is currently set at 25 Mbps (download) / 3 Mbps (upload), by returning it to the previous goal of 4 Mbps/ 1 Mbps. The slower benchmark was raised in 2015 under FCC Chairman Wheeler to reflect changing usage patterns and multiple device use within single households. By returning to pre-2015 benchmark speeds, underserved and rural areas would be considered adequately served and would receive less funding for upcoming broadband services, whether fixed or mobile.
At the same time, there was also some dissent among FCC commissioners as to whether the end goal of minimum universal broadband speeds of is fast enough to represent "advanced communications capability."
With this context, the FCC's 2018 Report on Broadband Deployment maintains the existing benchmark of 25 Mbps/3 Mbps, stating that it remains an appropriate measure to assess whether a fixed service provides advanced telecommunications capability. The FCC also established a new standard for mobile broadband as a connection of at least 10 Mbps.
Nationwide, urban networks are already ahead of the FCC's goal. The current focus will be to reach the remaining 24 million Americans who do not yet have access to minimum benchmark speeds.
No Change: Assessing Fixed and Mobile Broadband Separately
Fixed and mobile services provide access to information, entertainment, and employment options. However, there are clear variations in consumer preferences and demands for fixed and mobile services. Neither fixed or mobile services should be considered as a substitute for the other; both types should be adequately available to all Americans.
Recently, several broadband advocates raised concerns the FCC would combine fixed and mobile statistics in this year's report, which would have made the appearance of greater success by considering areas with mobile (LTE) access, but slow or no fixed broadband service, as having adequate coverage.
They had no reason to worry: the FCC conveyed that it will continue to assess fixed and mobile networks separately.
In a small change to the previous administration's approach, the FCC under Pai will additionally gauge broadband progress for both fixed and mobile toward a common speed/capacity goal. While the previous FCC leadership viewed anything less than 100 percent deployment to be a failure, this new approach offers more flexibility in its interpretation.
It's Time to Reach the Remaining Few