---
Joint Use Violation Most Wanted #2 – Damaged & Broken Poles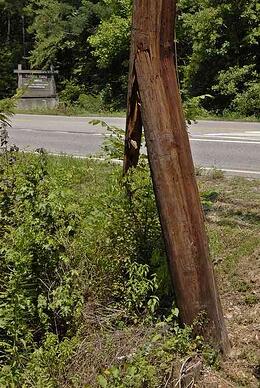 While there are dozens of violations recognized and fined under NESC code, there are a few we see so often we consider them violations of interest: repeat offenses to which no utility pole owner is immune. This blog is the second in a series detailing utility pole violations and the steps it takes to remedy them. Today, we dive into an issue that finds its way to the list because of the potential to create dangerous situations for the public and technicians: damaged and broken poles.
How does this happen?
A power pole in the field can become damaged a number of ways. Inclement weather can damage a pole's structural integrity. Impacts from car accidents can splinter poles or down them completely. Utility poles are also subject to other natural phenomenon such as rot, insect infestation and, as they are typically made of wood, woodpeckers and other animal-borne infiltration. Each can weaken a pole's structure enough that it may fall and become a dangerous hazard to the public and to the technicians who may be sent to climb the pole.
Every year, utility poles fall all over the U.S., causing injury and significant damage to property. In June of this year, a falling pole near Boston, Massachusetts, struck a mother and two children as they walked down the street.[1] In 2012, a pole fell directly into the middle of a busy Atlanta intersection, terrifying pedestrians and local residents.[2] Finally, in a strange chain reaction of events, half a downed pole ended up impaling a car, injuring the driver, in a Los Angeles suburb.[3] Fortunately, no one involved in any of those incidents was seriously injured, but the potential for major injury and loss of life after a pole fall is significant—especially for linemen who must climb or be in close proximity to potentially damaged poles. For this reason alone, keeping a close eye on the health of utility poles in the field is of utmost importance, and why letting damaged, broken or rotten poles stand is a fineable offense under NESC guidelines.
What can be done?
With so many utility poles in the field, pole owners may not have a good sense of the condition of each and every one. Conducting a field audit and pole testing can provide the information necessary to make decisions about whether to remove a pole, as well as with how much caution a pole should be approached by linemen and other technicians.
During a comprehensive pole inspection, technicians go into the field, visit each pole location and visually and mechanically inspect the assets to identify deficiencies. While putting eyes on a pole can offer valuable information about its top half, much of its structure is buried underground, where damage cannot readily be seen. One method used to determine a pole's viability below soil level is sound and bore, such as Resistograph® testing.
Resistograph® testing is a non-invasive, non-destructive structural integrity test that measures the resistance experienced by the drill and translates the corresponding patterns into digital measurements. Testers can then view an on-screen graph that represents the integrity of the pole at this key structural point. The base of a utility pole is where the structure holds most of its weight and where damage due to rot is most likely to exist. Test analysis will determine if a pole is sound enough to stand or if it has issues that need to be addressed immediately.
Why fix the problem?
While fines are sometimes levied against pole owners who neglect their property, there is a bigger reason to check and repair your poles. The integrity, and by extension, relative safety of a pole is the pole owner's responsibility alone. An owner is also liable if anyone is hurt by the pole because of its state of disrepair. Our advice: get ahead of the problem before someone is injured, be it a civilian or one of your own technicians. Conduct regular field inspections and make sure to record the results of the findings in a robust, searchable joint use database so information is kept up to date. Consider it peace of mind as well as an insurance policy against unforeseen accidents in the field.
[1] http://www.whdh.com/story/25680989/mother-2-kids-hit-by-falling-utility-pole-in-wakefield
[2] http://www.cbs46.com/story/19542304/fallen-utility-pole-blocks-midtown-intersection
[3] http://www.insidesocal.com/sgvcrime/2014/08/14/car-impaled-by-utility-pole-in-freak-accident-in-rosemead/