---
Rapid Technological Changes and the Joint Use Industry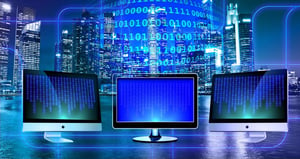 This year, progressive technology is generating massive changes for the United States. We find ourselves in the middle of a Fourth Industrial Revolution, where self-driving cars, automated homes, and robotics are becoming a reality.

The Fourth Industrial Revolution is the fastest-growing technological period to date, surpassing the previous three revolutions at rapid speeds. This new era is disrupting several business industries, especially joint use. Because of the swift changes, the joint use industry is facing robust change in their processes, roles, and responsibilities. Utilities, telecommunications, broadband providers, and third-party vendors are working to accommodate supporting policies that fuel the current Industrial Revolution. From the emergence of 5G, immense fiber deployment, new FCC policies, and the IoT, joint use departments are facing more change than ever before.
So, how can utilities, broadband providers, and telecommunications stay ahead of the curve and adapt in changing times? At Alden, we are doing our part by helping utilities, broadband providers, and telecoms lead the way with our nation's infrastructure.

Our communities and our economy need all of us to pioneer advanced processes that will help new technology grow. We want to share Alden's vision with you.
Watch the video below to hear Alden's CEO, John Sciarabba, discuss the future holds for joint use industry professionals.
Watch here: Infrastructure Asset Management Software and Services for Enterprise