---
The Shortfalls of Standard Fire Mapping & How Utilities Can Use Them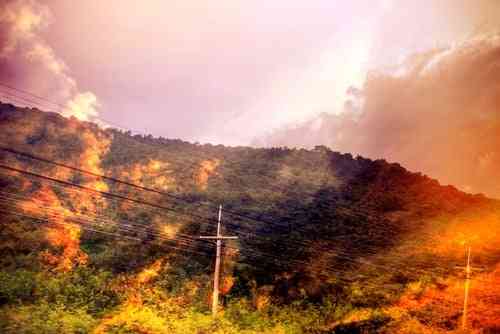 In 2017, more than 37,000 wildfires burned 5.2 million acres nationwide. Fire season in some areas has become nearly year-round, a significant change from fifty years ago when fire season was typically only in summer and fall. Compared to the 1970's, fire season is now 105 days longer, the annual number of large fires has tripled, and the amount of land they burn is six times greater.
Some wildfire experts say climate change and decades of aggressive wildfire suppression have primed forests to produce large, destructive blazes. Making things worse, people are increasingly building homes and offices in regions categorized as "wildland urban interface." This term describes wildfire-prone zones where wilderness and civilization meet.
Wildland-Urban Interface: People are Moving Closer to Nature
This new and highly dangerous fire situation is requiring western states, fire managers, and policy makers to rethink their strategies for preventing, preparing for, and combating wildfires.
Staying Cautious of Fires in the Utility Industry
While utility companies and pole owners are rarely the direct cause of wildfires, this does happen. Fires can be caused by downed lines, vegetation contact, and conductor slap. As a result, pole owners carry an especially heavy responsibility for maintaining and monitoring assets located within fire zones.
In October 2007, dozens of fires burned through Southern California, fueled by powerful Santa Ana winds. Several of the worst were found to be ignited and attributed to overhead power lines and aerial communications facilities. Those fires burned more than 207,000 acres, destroyed 1,141 homes, killed 2 people, and injured 40 firefighters.
Fire Mapping is Available, But Many Utilities Aren't Using Them
To aid in fire prevention and management, many states have developed fire maps that identify regions of varying fire risk. Utilities have access to these maps, and may reference them when presented with a reported failure or repair in a high-risk area. However, the limitations of current maintenance and asset management processes often mean that this type of prioritization is limited to extreme cases where there is an absolute hazard to the public (i.e.: a utility pole is about to fall or cable is laying on the ground).
Most asset owners lack the data and tools to address maintenance and repairs in a proactive and methodical way. Too often, issues are handled based on the "squeaky wheel," where the biggest, hottest issue of the day is addressed, and everything else needs to wait.
However, there are tools that can help pole owners stay prepared and aware. With accurate data and a centralized platform, pole owners can know where their assets are and in what condition. If you would like to speak with a product specialist about getting started with a joint use platform, click the link below.
Click here to read on about the risks of damage to property and life.