---
Reducing Paper Flow in Joint Use Utility Pole Management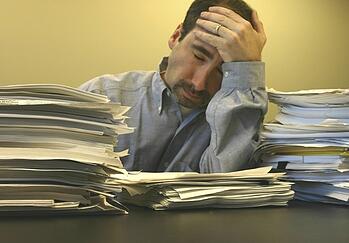 Did you know that the average office worker in the United States uses 10,000 sheets of copy paper each year? Take a look at some other startling facts compiled by The Paperless Project :
• A misfiled document costs $125; a lost document costs $350 to $700.
• The average search time for a single document is 18 minutes.
• Managers in the United States spend an average of 4 weeks a year searching for, or waiting on, misfiled, mislabeled, untracked or lost papers.
• Between 3 and 5 percent of an organization's files are lost or misplaced at any given time.
• More than 70% of today's businesses in the US would fail within 3 weeks if they suffered a catastrophic loss of paper-based records due to fire or flood.
As you can see, paper can be a source of cost, time and liability. Additional challenges to a paper-based information management system include unconsolidated data and limited access to information, not to mention its significant contribution to the environmental impact of a company. With the advanced technology systems available for businesses today, companies, including those involved in joint use utility pole management, can avoid such concerns by switching to a web-based paperless management system. These online software systems not only store joint use information — such as contracts, billable items (for things such as make-ready work), pole inventory/audit data and e-mail communications — but they can also organize and archive this data. These additional abilities allow individual work requests and other documents to be be easily and quickly located whenever necessary.
An online management system also increases work efficiency by allowing multiple individuals access to certain information when needed. Imagine a situation in which a utility pole owner receives a complaint regarding a pole that appears to be leaning. With a web-based management system, the pole owner can send a utility worker to inspect the pole and give them access to the history of the pole's maintenance activities, including notes regarding possible environmental dangers. If it is found that the pole needs to be replaced, the utility pole company can then easily look to their online system to find out what companies are attached to the pole and should be notified of the need to transfer equipment to the new pole. This communication between the pole owner and the attachment companies can also be stored in the system in order to show due diligence for the pole owner that they notified the necessary parties in a timely manner. It can also aid in holding the attachment companies accountable for following through on such work orders. With all historical information concerning a single project stored in the same, easily accessible place (that is updated in real time), a centralized online software system also makes it simple to monitor activity such as pole transfers or permits to attach and quickly see where things are in the process.
Paper isn't going away for good, however, technology has made so many processes simpler (while minimizing our ecological footprints) and businesses should take advantage of these advances. Plus, there are joint use management software systems that are designed to be extremely user-friendly, so implementing technology may just be easier than you think!