---
Pack and Ship: Safe Circuit Pack Shipping to Avoid Loss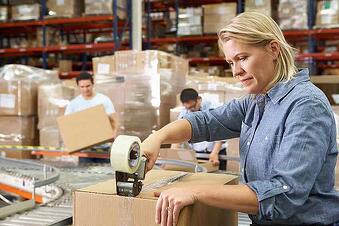 Wrapping and shipping are a couple of the activities we do not all enjoy. In the CO world, however, these tasks such as packing up and shipping out plugs from CO (central office) to CO, RT to CO or to other facilities within a company's system, is a year-round job.
Plug-ins need to be shipped for a number of reasons. They move around. Safety stock levels at a specific central office may have been exceeded, necessitating extra plugs be moved to a central warehouse. Plugs may simply be needed in other locations. Those needing transfer may also be decommissioned models ready for sale or other disposition. Whatever the reason, packing and shipping working, viable circuit packs is a delicate matter. We offer a few best practices that should help you get through the seemingly never-ending but necessary task of boxing, wrapping, taping up and saying goodbye to a few of your company's assets.
Bubble Wrap Color Matters
Standard white or clear bubble wrap is great for packing up your dishes before a move, but it is not rated for directly wrapping circuit packs. Why? ESD (electrostatic discharge). We have discussed this shocking destroyer of sensitive equipment before, but precautions against it do not end inside the central office. ESD bubble wrap is bright pink, and reduces the potential danger of electrostatic damage to valuable plugs. As in all things relating to plug viability, this is an important step. According to typical guidelines used by an Alden client, "All personnel participating in packing activities must be properly grounded by observing all ESD rules" is rule number one and "Seal circuit packs and products individually in ESD-compliant bags or pink bubble wrap" is rule number two.
Rattle is Just Plain Wrong
In addition to packing plugs in pink ESD bubble wrap (or another approved electrostatic discharge wrapping), they must not rattle inside shipping containers. While shippers do take some care to not abuse packages in transit, the truth is boxes tumble, slide, bump and rock back and forth during travel. To ensure that your plugs are not bouncing around, best practice suggests a few safety measures:
Circuit packs should be shipped in a sturdy, corrugated box with ample room for packing material to surround, protect and cushion the asset.
All corners should be far enough away from box edges so they do not poke through the box.
Any plug not in its own box must be double bubble-wrapped to protect it on all sides.
Lining the interior of the shipping box with ordinary (white) bubble wrap before adding the box contents can help eliminate movement in transit. Plugs should then be wrapped in pink ESD wrap and handled by technicians wearing ESD gloves.
Check your vendors' practices
While a good deal of the above advice might seem like common sense, lack of attention to detail or lack of accountability can turn a simple task into a problem. Our advice: make sure you know your shipping vendor's process and ensure they follow their own guidelines. With regard to ESD precautions, pink ESD bubble wrap is more expensive than the type you can buy at your local home improvement warehouse or office supply store, so some companies (and often the vendors they hire to ship for them) opt to cut corners. The same goes for double-wrapping plugs and cushioning larger boxes with an extra layer of padding. None of these cost and time-cutting measures are advisable, as a savings of a few minutes or dollars can turn into a loss of hundreds or even thousands, as good plugs become damaged goods en route to their next destination.