---
Organization to Go: The Benefits of Inventorying Trucks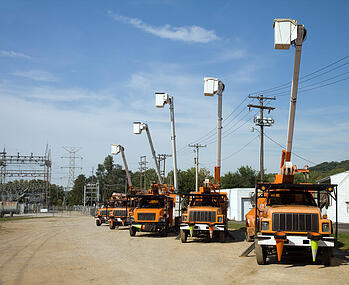 Valuable assets can hide out anywhere. In that forgotten closet at headquarters, somewhere in the warehouse, in buildings your company has not inventoried in a while, etc. In industries such as telecommunications and utility, along with the many other industries that conduct work in the field, valuable everyday assets—hundreds perhaps thousands of them—can be found on trucks driving around the countryside, being loaded and unloaded, parts used, re-used, broken, discarded, found and forgotten.
While a thorough inventory will nearly always include a look through freestanding structures that house important equipment, many businesses overlook the mobile repositories of assets they have out in the field. It is difficult—trucks are meant to be constantly on the move. Keeping track of what is and is not on them is a complex task, and the implications of not keeping on top of truck inventory can be significant. To help drive the point home, we have compiled a few reasons why every business should consider inventory management an everywhere, no-space-left-unaccounted-for proposition and roll out an inventory of mobile assets today.
They hold essential equipment
Basically rolling toolboxes, your businesses' trucks stock the fundamentals that allow you to solve problems in the field, install new equipment and serve your customers day to day. Knowing what is on board, what is not, and what was but has been put to use, decommissioned or discarded is important to keeping appropriate min/max or safety levels and essential to having the supplies to operate. To help, a thorough inventory will include scanning and pulling of items in excess of a company's min/max levels for transport back to the warehouse for re-use.
They are constantly on the move
The simple idea that trucks take on, use up and cycle through many more parts and pieces than the typical warehouse is simply part of the nature of working in the field. More activity and more movement means more valuable items may be lost in the shuffle, forgotten, transported somewhere they should not be, and then when they are needed, are nowhere to be found. Taking stock regularly through a thorough inventory process that leaves no door unopened can help companies know more accurately what is on board, in the warehouse and available for use everywhere.

They can be treasure troves
According to an Alden inventory specialist, "Warehouses and trucks are often a wreck. They have stuff sitting around, they are dirty, they are disorganized, and they sometimes have many thousands of dollars of equipment sitting unused and unaccounted for. A lot of this excess is perfectly good, so we return the items to the company so they can make use of them or sell them." As businesses are required to pay taxes on all items in inventory, cleaning house—and vehicles—can both save money in the short term and create revenue over time. The lesson: you never know what you may find, and how valuable it might be, until you look.
Trucks and other mobile assets may not have a physical address, but inventory of them—and all the important equipment they hold inside them—should not be overlooked. Quantification, categorization and valuation of these items is vital, as is offloading that information and putting it to good use. Conducting regular in-house inventories or contracting a third-party inventory source that combines scanning technology with database implementation that interfaces with your company's accounting software can be a big help to keeping a business moving in a more organized, more cost-effective direction.
Tags: