---
Notes from the Florida Utilities Coordinating Committee Conference
Alden Systems attended the Florida Utilities Coordinating Committee Summer Educational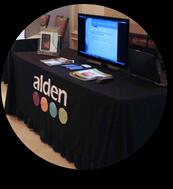 Conference at the Marco Island Hilton, August 6th - 8th.
The meeting was well attended by the state's public and private utilities, public works departments, consulting engineers and contractors. Presentations were given regarding: Accelerating Highway Construction Completion, 3D Utility Modeling & RFID, FDOT's Electronic Permitting and Solar Power Projects/Utility Scale.
In the Joint Use Subcommittee meeting, Scott Freeburn from Duke Energy spoke in depth about a Double Pole project and how they are handling the removal of stub poles and transferring attachments to new poles. Duke Energy realized they had thousands of double poles throughout their service territory that were a liability for potential accidents, legal fees and complaints filed by customers. By being proactive, Duke is methodically removing the old stub poles and transferring the communication attachments to the new pole through subcontractors. Duke Energy is saving money by subcontracting these services and allowing their line crews to focus on the core mission - safely supplying power to their customers.
FUCC's next meeting is scheduled for November 6th- 8th at the Mission Inn Hotel at Howey-in-the-Hills, FL.