---
Highlight on IoT: Field Services Will Be More Energy Efficient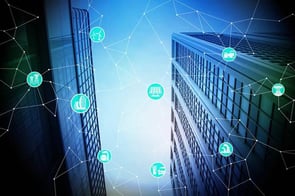 This post is part 3 of a three-part blog series about the Internet of Things (IoT) and its impact on infrastructure asset management. To read part 2, go to "3 Ways the Internet of Things Will Change the Future of Infrastructure Asset Management."
As the technology that helps consumers to be more environmentally responsible grows increasingly accessible—and the costs for energy use rise—the demand for energy efficient products and tools will continue to increase. Accenture recently found that two-thirds of global energy customers are interested in products that would help them save electricity (up from 56% last year).
Energy efficiencies may be as simple as installing energy-saving light bulbs, choosing to purchase Energy Star rated appliances, or installing smart thermostats. In a more comprehensive way, the Internet of Things and increased device connectivity will enable the data exchange and analysis to fuel greater energy savings and more efficient energy use across the grid—from customers' homes to the plant and out in the field.
Adjusting to a Declining Demand for Power
The era of power customers using more and more power from one year to the next is likely over. The combination of increasingly efficient technologies with conservation efforts and the growth of alternative power sources is resulting in a near flat-line for projected growth (less than 1% from today until 2040), driving utilities to lower costs and providing cleaner power.
Optimizing Asset Maintenance
The Internet of Things is enabling predictive maintenance analytics for fixed asset management that directs field services teams to the areas of greatest need. In the past, providers had to wait to receive a call from a customer to inform them that service had been interrupted. Now, data from meters and sensors can issue an alert that a field asset is in need of repair, generate a work order, and then dispatch the nearest service crew. This returns service more quickly and results in more satisfied customers.
This technology enables companies to remotely diagnose asset faults, minimize site visits and deliver more efficient technical support—and in some cases, remote systems can repair faults without dispatching a technician. As a result, providers are able to improve uptime and reduce overall maintenance costs.
Leading utilities around the world are using predictive analytics to:
Track tens of thousands of utility vehicles in real time to increase utilization and driver safety and reduce fuel usage
Combine the output of millions of smart meters with other data sources such as customer billing, weather, calendars and more to identify energy theft and waste
Analyze individual and collective risk across millions of transmission and distribution assets to improve efficiency
Reactive maintenance is inefficient, and scheduled maintenance is only a slight improvement. Predictive maintenance is the solution to achieving massive efficiency gains, energy savings, cost benefits and to prolong the life of an asset—all thanks to the constant real-time monitoring made possible by connected sensors.
Responding to Peak Usage
The Internet of Things will allow energy infrastructure and devices to become dynamic and responsive to energy demands and macro-level energy spikes. Users will have the ability to automatically adjust their energy consumption in the context of peak usage periods. The result is cost savings for the user and more manageable demand.
For example, during the hottest week of the summer, users will have the option of automatically raising their thermostat by several degrees. This eases the demand on the grid, and lowers the individual cost for energy use on those peak days.
The Internet of Things represents significant potential for greater energy efficiencies and savings across the grid. It will impact every aspect of the industry—from field services to customer acquisition and retention—and is reshaping the business as we know it.
Learn more about what we expect from the future of joint use—from increasing demands for improvements to infrastructure aesthetics to the potential for joint use as a revenue-generating business—by downloading our most recent eBook, Joint Use in the 21st Century.